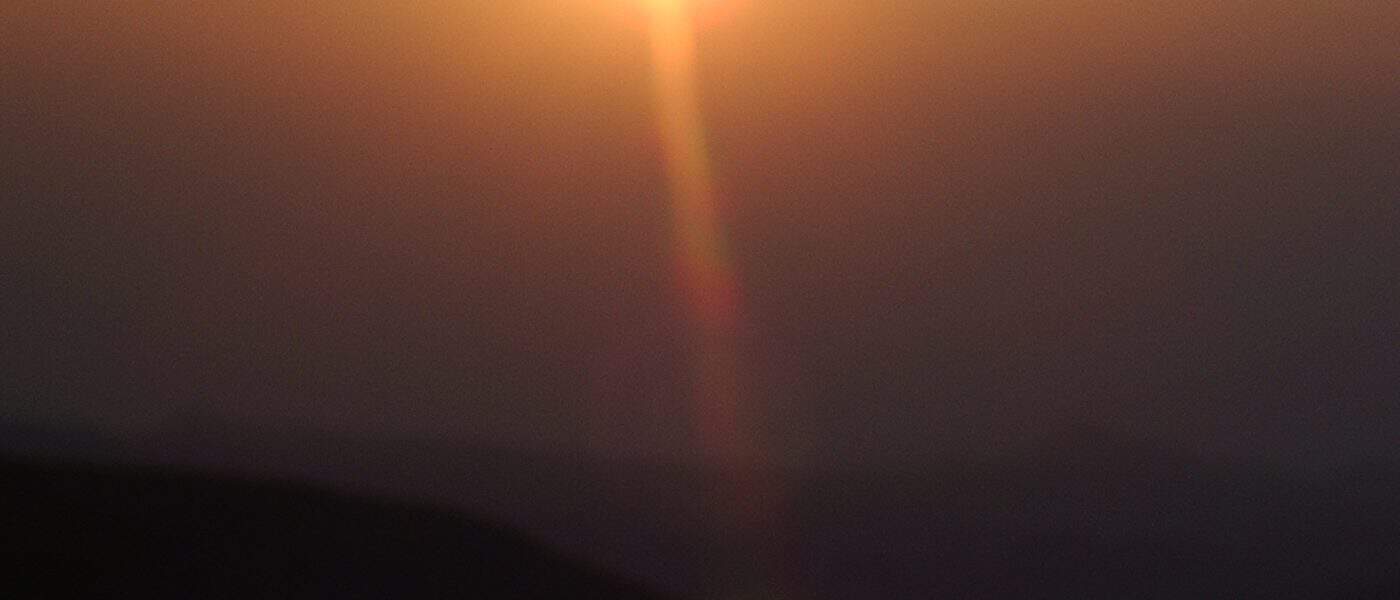 The Cross of Jesus – part 3 / Week 47 – November 17th
                "Now all things are of God, who has reconciled us to
                                                Himself through Jesus Christ, and has given us the
                                                ministry of reconciliation, that is, that God was in
                                                Christ reconciling the world to Himself, not imputing
                                                their trespasses to them and has committed to us
                                                the word of reconciliation."
                                                                                                2 Corinthians 5:18-19
The cross of Jesus reconciles our lives to the God of heaven. It makes us compatible with His perfect character and enables Him to invade our lives with His transforming power. This remarkable demonstration of God's love, power and grace frees us from the fear of disapproval, condemnation and judgment (1 John 4:18-19). We are fully "accepted in the Beloved" and covered with His righteousness. We are the righteousness of God in Christ. This is amazing and good news indeed.
As Christians we need to know these facts and live by them. It is precisely here that we fail and all of Paul's letters are written with this goal in mind. So, to be all that God wants us to be by virtue of Jesus' death on the cross we need:
To learn to come into God's presence
The writer of the book of Hebrews tells us that we need to do this boldly.
"Let us therefore come boldly to the throne of grace, that
                                                we may obtain mercy and find grace to help in time of
                                                need."
                                                                                                Hebrews 4:16
We come into God's presence boldly on the grounds of what Jesus did for us on the cross. We are not deterred from doing this because of some earthly experience relating to our natural fathers etc. God is our Father and He is like none other and when Jesus saves us He brings us into a right relationship with His Father. Jesus' blood, the evidence of His death for sinners, gives us unhindered and full access to God our Father. This is vital truth stamped on our hearts by the Holy Spirit and so it is our understanding of what happened on the cross that propels us with joy into the very throne room of God! It is when we are assured of these things that we will exercise our right to approach God our Father free from doubts and fears. The truth of God will set you free from these and this is precisely why we need to live in God's word (John 8:31-32). Also, it is ignorance, doubt, condemnation and fear that keeps us from praying for it is by praying, just talking to God in Jesus' name, that we draw near to God and find His comfort. This is the promise of His word (John 14:13-14).
To learn to trust the power of Christ in us
The Bible affirms that it is Christ in us the hope of glory (Colossians 1:27). That is, Jesus transforming power inside each one of us can change us into a reflection of the character of God. There is no power on earth that can stand in the way of Jesus' work in us because "greater is He that is in us than he that is in the world" (1 John 4:4). This in turn means that the ungodly habits, actions and addictions of our lives have all been conquered by the cross. There is no need for us to be entrapped by any of them. This in itself is a revelation that has to be fully grasped by us. Until we thoroughly learn this truth we shall continue to be held captive by defeated tormentors! It is thus precisely because of Jesus' great power residing in us that we can truly consider ourselves to be dead to sin; unresponsive to it. Paul affirmed this when he wrote:
"Likewise you also, reckon yourselves to be dead indeed
                                                to sin, but alive to God in Christ Jesus our Lord. Therefore
                                                do not let sin reign in your mortal body, that you should
                                                obey it in its lusts."
                                                                                                Romans 6:11-12
John, the Apostle, knew this truth well because he wrote that the one who is truly born again does not sin (1John 3:6; 9)! The language here is very strong and confident and indeed it surprises many as on the other hand, in the same letter, he also states that if we say we do not sin we lie and the truth is not in us (1John 1:8). So, what did he really mean? He meant that he that has come to the cross and has appropriated what happened there does not sin habitually. That is, sinful habits, actions and practices do not have a hold on us; we have been freed of their grip and can live in a way that pleases God. All of this is because "His seed", the very life of Christ, is in us (1 John 3:9). We must learn to trust the power of Jesus in us. This is why John also writes that the way we live as Christians is characterized by righteousness:
"If you know that He is righteous, you know that everyone
                                                who practices righteousness is born of Him."
1 John 2:29
So, Paul had it right when exhorted the readers of his Roman letter to count on the life of Jesus in them to fully transform them. He put it this way:
"Therefore do not let sin reign in your mortal body, that
                                                you should obey it in its lusts."
                                                                                Romans 6:12
To learn to walk in perfection
The cross, by virtue of reconciling us to God, has the power to fully transform our lives. In fact we are to see ourselves already seated with Christ in heaven (Ephesians 2:4-6)! The Spirit of God within us helps us to walk this position out in time and this is a process called sanctification. Our calling is to make our heavenly position of perfection an earthly reality. Or, to put it another way, we are to close the gap between what God says we are and what we are on earth. Paul acknowledged this when he stated that he presses forward toward "the upward call of God in Christ Jesus" (Philippians 3:12-14) That is, he is ever moving forward to have Christ's perfection of character established in his. This was Paul's daily pursuit and, as he embraced it, he recognized that he had not yet fully attained his goal but he was getting close to it (Philippians 3:12)! How close are you?
Having said this it is also true that we can be perfect! Paul clearly taught this but it has to be explained. Perfection can be defined as staying at the place of Christ-like transformation to which the Holy Spirit has brought you. It does not mean that one is a perfect reflection in character of all that Christ is. No, it means that to the degree to which one has positively responded to the transforming light and power of Christ and is living in it; to that degree one is perfect! Paul put it this way:
"Therefore let us, as many as are perfect, have this mind;
                                                and if in anything you think otherwise, God will reveal
                                                even this to you. Nevertheless, to the degree that we
                                                have already attained, let us walk by the same rule, let
                                                us be of the same mind."
                                                                                                Philippians 3:15-16
When we walk in the power of God's transforming light and stay in God's transforming light, never going back, it is then that we are perfect. God holds us accountable for the light that we have received. Paul acknowledges that not all Christians understand this and that in time God will make it clear to them but the bottom line is, "to the degree that we have already attained, let us walk by the same rule". We should never slide back into old habits and practices that God in Christ has delivered us from and so, like Paul, we forget those things which were behind and we press forward to those things which are ahead. The cross bought us a full deliverance and we should always move forward to appropriate it. The writer of the book of Hebrews understood this and wrote of it in these terms:
"Therefore, leaving the discussion of the elementary principles
                                                of Christ, let us go on to perfection, not laying again the found-
                                                ation of repentance from dead works and of faith toward God…."
                                                                                                Hebrews 6:1
It's time for Christians to grow up, and indeed wise up, and go forward to perfection!
To learn the ways of the cross in tribulation
The cross we shoulder every day is the one that applies the purchased blessings of Jesus' cross to our lives. Our cross challenges the "I principle" or "Selfish principle' in our lives every day. We do this by trusting the power of God in Christ to invade and transform our lives. We therefore, with God's help, put to death our old way of living and embrace the ways of God. Because Jesus lives in us by the power of the Holy Spirit Paul commands us to change!
"…….if indeed you have heard Him and have been taught by
                                                Him, as the truth is in Jesus: that you put off, concerning your
                                                former conduct, the old man which grows corrupt according
                                                to deceitful lusts, and be renewed in the spirit of your mind,
                                                and that you put on the new man which was created according
                                                to God, in true righteousness and holiness."
                                                                                                Ephesians 4:21-24
Sometimes sin is so deeply rooted in our lives that we cannot change by simply being obedient to the word of God. It is for this reason that God allows us to walk through trials and tribulations. These have a habit of driving us to Christ as never before and so through the ordeal of trials and tribulations He is able to change us. This is not a blessed process but it is a necessary one and every true follower of Christ will be subjected to and trained by it. At the end the power of Christ will have uprooted our stubborn evil ways and replaced them with His. Peter encouraged the Christians of his day to submit to this process with patience:
"In this you greatly rejoice, though now for a little while, if
                                                need be, you have been grieved by various trials, that the
                                                genuineness of your faith, being more precious that gold
                                                that perishes, though it be tested by fire, may be found to
                                                praise, honor, and glory at the revelation of Jesus Christ."
                                                                                                1 Peter 1:6-7
                                                "Therefore, since Christ suffered for us in the flesh, arm
                                                yourselves also with the same mind, for he who has suffer-
                                                ed in the flesh has ceased from sin."
                                                                                                1 Peter 4:1
James, in his epistle, begins by encouraging the believers to hold steady in trials and not to get discouraged as in due time God will deliver them but not before He has effectively applied the cross to their lives. He puts it this way:
"My brethren, count it all joy when you fall into various trials
                                                knowing that the testing of your faith produces patience. But
                                                let patience have its perfect work, that you may be perfect
                                                and complete lacking nothing."
                                                                                                James 1:2-4
Paul also appreciated the fact that trials and tribulations are the tools that God uses to apply Jesus' cross to our lives. That is, to not only impute righteousness to us but to impart righteousness to us. So he writes of this reality in these terms:
                "And not only that, but we also glory in tribulations, knowing
                                                that tribulation produces perseverance; and perseverance,
                                                character; and character, hope. Now hope does not disappoint-
                                                ment, because the love of God has been poured out in our
                                                hearts by the Holy Spirit who was give to us."
                                                                                                Romans 5:3-5
It is therefore clear that the way of the cross is a challenging way but we are all to submit to it, or as the writer of the book of Hebrews put it, be trained by it (Hebrews 12:7-11), as in the end, by virtue of the power of God in us, we will be changed and people around us will take note that we have been with Jesus.
To learn to walk in the Spirit
In the book of Romans Paul sets forth, in chapters seven and eight, the struggle that believers have in "finding their footing" in Christ. The cross has fully cancelled the power of sin in our lives but we struggle to appropriate it and so Paul gives personal testimony to his journey in this regard. He therefore cries out:
"For the good that I will to d, I do not do; but the evil
                                                I will not to do, that I practice. Now if I do what I will
                                                not to do, it is no longer I who do it, but sin that dwells
                                                in me."
                                                "O wretched man that I am! Who will deliver me from
                                                this body of death? I thank God-through Jesus Christ
                                                Our Lord!…."
                                                                                                Romans 7:19-20; 24-25
Paul then goes on to tell us that Jesus delivers us from in-dwelling sin by our relationship with the Holy Spirit; that is, we are to walk in the Spirit and consequently we will not give into sin or, as he puts it, the flesh.
"There is therefore now no condemnation to those who
                                                are in Christ Jesus, who do not walk according to the flesh
                                                but according to the Spirit."
                                                                                                Romans 8:1
The question then is, how do we walk in the Holy Spirit? The answer, according to Paul, is applying your mind in such a way that it agrees with the truth of God's word. It is God's truth that sets you free and enables the Spirit of God to work powerfully in your life. Our minds need to be made subject to the word of God. So, Paul states, in confirmation of this:
"For those who live according to the flesh set their minds
                                                on the things of the flesh, but those who live according to
                                                the Spirit, the things of the Spirit. For to be carnally minded
                                                is death, but to be spiritually minded is life and peace."
                                                                                                Romans 8:6-7
It is then clear that to walk in the Spirit and thus apply to our lives all that Jesus did for us on the cross begins with our minds. We have to "want to" change and then God changes us. When our minds stand on truth, that truth explodes in our lives and transforms us. This is why Peter wrote that we are to gird up the loins of our minds and follow Christ (1 Peter 1:13) and Paul, writing to the Philippian Church, said that we are to train our minds to dwell on good and godly things (Philippians 4:8-9). Christians today need a radical commitment to the word of God and they need to support this with lots of prayer and attendance at a good fellowship of God's people. There is just no other way to walk in the Spirit and live out all the blessings unleashed for us on the cross.
Malcolm Hedding
2015Devotional
Blog