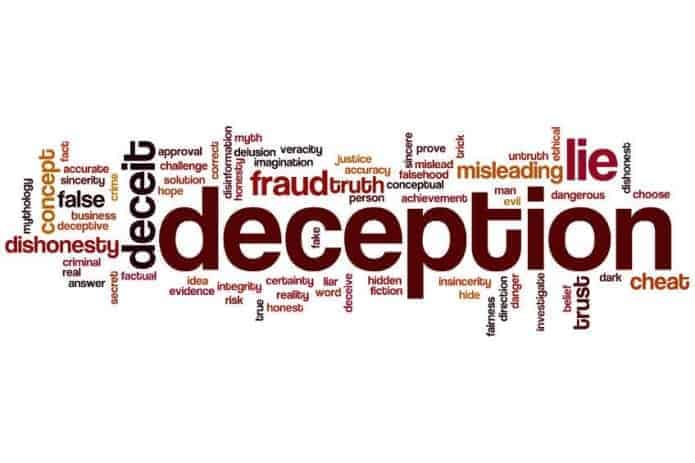 Peddlers of Deception
"And the Lord said to Abram, after Lot had separated
from him: "Lift your eyes now and look from the place
where you are-north-ward, southward, east ward, and
westward; for all the land which you see I give to your
descendants forever."
Genesis 13:14-15
"And I will establish My covenant between Me and you
and your descendants after you in their generations, for
an everlasting covenant, to be God to you and your
descendants after you. Also I give to you and your
descendants after you the land in which you are a stranger,
all the land of Canaan, as an everlasting possession; and I
will be their God."
Genesis 17:7-8
"What I protest against is, the habit of allegorizing plain
sayings of the Word of God concerning the future history
of the nation Israel, and explaining away the fullness of
their contents in order to accommodate them to the
Gentile Church. I believe the habit to be unwarranted by
anything in Scripture, and to draw after it a long train of
evil consequences."
Bishop Ryle of Liverpool-1867
In a recent discussion with a group of people, who have taken it upon themselves to challenge biblical Christian Zionists, it was asserted that the Hebrew term here in these passages above for "descendants" is in fact "seed" in the singular. This is indeed true but they went on to state that consequently the God of the Bible had in fact made no promises of land to the descendants of Israel but rather only to the "seed" as referring to Jesus. Jesus inherits everything and the Jews have thus, by this devious theological position, been dis-invested of the promises made to them in terms of being the everlasting possessors of the land of Canaan. The fact is they have in so doing mishandled the Word of God and are thereby peddlers of deception!
The term "seed" though in the singular can also be translated as "seeds" or "descendants" because the context of the passage demands it. This is not uncommon even in the English language as we can use the term "man" which designates the singular in a way that it refers to "men"; the plural. We can therefore say, "Man cannot handle his technology" or "It appears that it is not possible for man to control his carnality." Actually all the major and minor prophets do this by referring only to Jacob, one individual, when referring to all the people of Israel! (Micah 1:5)
Again it is the context, which demands how we interpret the Bible and every translator, of all the respected and revered versions of the Bible that we have today, translate "seed", in the singular, as "descendants" or "seeds." These are highly trained biblical scholars who have professional skills in dealing with Hebrew and yet, according to this group of antagonists, these scholars are mistaken. I think not! In fact I want to stress it again, there is not one translation of the Bible that translates the word seed in the singular in the two passages above as referring to anything else but the descendants (seed in the plural) of Israel.
Indeed if "seed" in these passages is to be taken only as the singular, that is as referring only to one individual, then this would make the whole history and journey of the Israelites from Egypt to the promised land absurd and it would make their own understanding of their history false because God did not in fact promise them the land of Canaan as their eternal possession. Only a fool would advocate for this position! In addition the conquest of the land would then have been a huge mistake and Joshua's leadership in this regard should be considered unjust. This is exactly the position that an Anglican Priest took a few years ago when he declared that, "Joshua was the patron saint of ethnic cleansing."
David the great King of Israel understood the promises that God made to Abraham to be understood as referring to all of Israel as in descendants (Psalm 105:42-45) and the Major Prophets took the same position. Israel would be judged and corrected and even exiled but she would always return to the land of her forefathers (Amos 9:14-15). God gave the land of Canaan to the people of Israel as an everlasting possession, scripture plainly says this and it no where removes this promise; no where, and this is indeed the "Achilles' Heel" of those subscribing to Replacement Theology or "Fulfillment Theology." They have great difficulty in rightly dividing the Bible since they routinely abuse its context and have problems with understanding terms like "everlasting!" If everlasting does in fact mean everlasting then Israel's modern day restoration has great significance and this is precisely what they wish to deny.
For them, that God would choose the people of Israel as the means by which to bless the world (Genesis 12:1-3) is totally unacceptable and even racist. The truth is, Israel is a servant nation and was never chosen by God because she was or is better than any of the other nations; in fact God saw her as the least of all the nations (Deuteronomy 7:6-7). He chose her only to be the vehicle of world redemption (John 4:22) and thus the means by which He could amplify His voice in the world (Romans 9:1-5) and give the gift of His Son to it. For some reason people, even Christian people, hate this and wish to resist it. Martin Luther did this as do many today and they will go to any place of theological error to achieve it. For instance the same group mentioned above welcomed a contributor to their discussion who boldly asserted that when Jesus comes again He would not do so visibly, physically and literally to the Mt. of Olives on the east side of Jerusalem. No, His return is to be understood in spiritual terms only. This constitutes a total violation of scripture but this person takes this position because He knows that, if Jesus is returning to Jerusalem, He must be returning to His people who have been restored there from the nations because He said this would happen (Luke 21:24) (Matthew 23:37-39). Thus, because no biblical significance must be given to Israel's modern day restoration, the clear teaching on His return must be denied and waffled away. When he put forth this notion not one person corrected him but rather he was thanked for his contribution!
"Now to Abraham and his Seed were the promises made.
He does not say, "And to seeds," as of many, but as of one,
"And to your Seed," who is Christ."
Galatians 3:16
This quote actually comes from Genesis 22, which tells us about the binding of Isaac. According to the book of Hebrews this episode in Abraham's life constituted a picture of Christ's death. Isaac is taken to Mt. Moriah in Jerusalem, wood is placed on his back and he carries it to the place of his execution where he is placed on the wood and nearly sacrificed by Abraham. After God stays Abraham's hand he assures him that He, God, will send a seed (singular) to be sacrificed as Isaac was for the sins of the world. God says, "In your seed all the families of the world will be blessed (saved)" (Genesis 22:18).
The context of this passage is indeed in the singular and thus it is a promise that Messiah would come one day and die for the sins of the world. It is His death alone that will bring redemption or salvation to the human race. This is true and the argument that Paul is making in his letter to the Galatians has nothing to do with the promises that God made to Abraham in terms of his descendants but everything to do with the fact that no one will be saved by keeping the law, which only came four hundred and thirty years after God had made the promise to Abraham of a coming saving seed, Jesus. The Law teaches us about sin or is our schoolmaster (Galatians 3:24)(Romans 3:20) but Jesus died for our sins, like Isaac foreshadowed, and is thus our Savior (Galatians 3:13). This is the context of Galatians three.
Those who seek to use Galatians 3:16 as a means to negate the other promises that God made to Abraham at the same time, which promises have to do with Abraham's descendants and with the land of Canaan and are said to be everlasting, are deceptive peddlers of error. They have failed to rightly divide the Word of truth!
Malcolm Hedding.
Blog