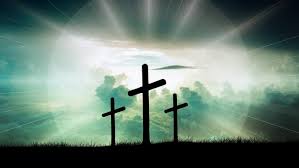 Passover 2018
                        "For the grace of God that brings salvation has appeared
                         to all men, teaching us that, denying ungodliness and
                         worldly lusts, we should live soberly, righteously, and
                         godly in the present age, looking for the blessed hope and
                         glorious appearing of our great God and Savior Jesus Christ,
                         who gave Himself for us, that He might redeem us from
                         every lawless deed and purify for Himself His own special
                         people, zealous for good works."
                                                                                    Titus 2:11-14
In these coming days we will celebrate the death, burial and resurrection of Jesus. The cross of Jesus is the shining light of God's love for a sinful world and what happened upon it was given power and meaning by the resurrection of Jesus from the dead. Jesus removed God's anger and wrath from over our lives and consequently brought us forgiveness of sins and reconciliation with God our Father. By the cross and resurrection of Jesus, God our Father in Heaven, has then imputed Christ's righteousness to our lives meaning that being in Christ He sees us as perfect; just as if we had never sinned. We are the recipients of eternal life and therefore we are saved from an eternity separated from God. This is what it means to be saved!
Death has been conquered and its dark and foreboding sting has been removed from us. It is now a mere doorway to the glorious and real eternal presence of God. We are truly saved from our sins and rejoice in the sure hope of living out an eternal purpose with God our Savior. This is good news indeed and constitutes a glorious message of hope for those who would embrace it. Sadly, according to Jesus, few will!
It is then no coincidence that the history of the human race is divided by the coming of Jesus and His saving work on the cross. The cross towers over history and calls us home to God our Father. Truly every person is living before Christ or after Christ. That is, we either have Him in our lives and are consequently saved from our sins or we do not have Him in our lives and remain in our sins and under the wrath of God. Which is it? I sincerely hope that it is the former since Christ in us is the only way to the eternal glory of God.
May the great God of Israel "who is able to keep you from stumbling, and to present you faultless before the presence of His glory, to God our Savior, who alone is wise, be glory and majesty, dominion and power, both now and forever, Amen."
Malcolm Hedding
2018 devotionals
2018Devotional
Blog