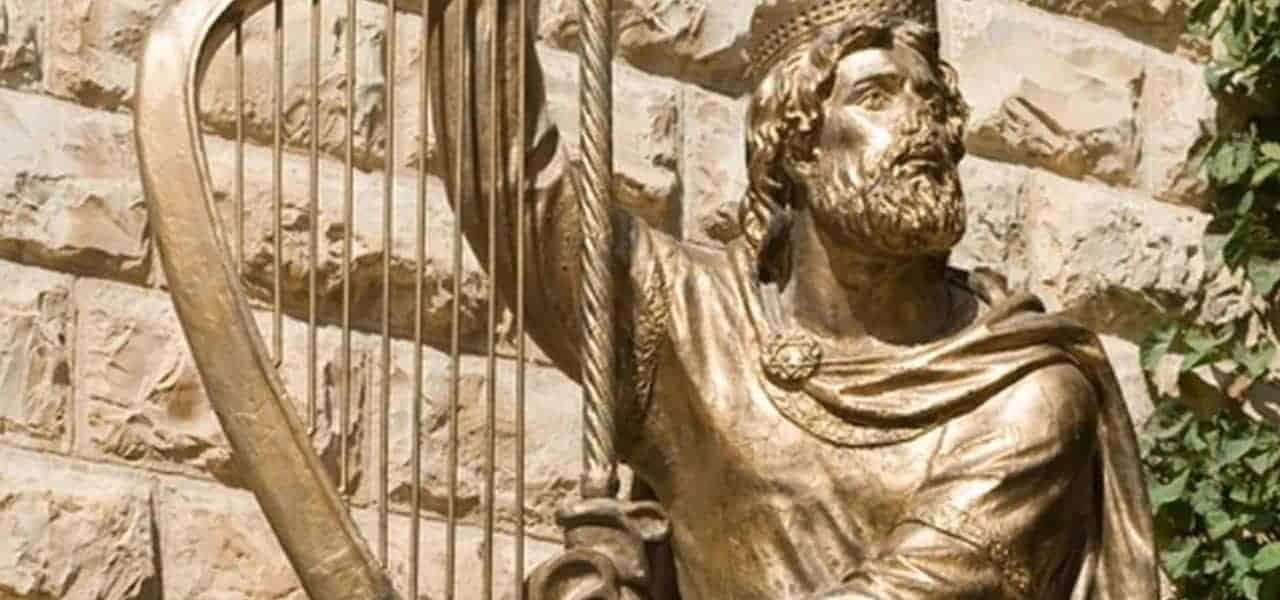 David's Triumphs and Failures
"And when He had removed him. He raised up
for them David as King, to whom also He gave
testimony and said, 'I have found David the son
of Jesse, a man after My own heart, who will do
all My will."
Acts 13:22
Spiritual growth
There is no doubt that David was a great leader with a heart after God. In his younger years He was "dashing and daring" and thus had a capacity to trust God but before he became famous as a great warrior he was considered insignificant and forgettable by his father Jesse.  When Samuel was instructed by God to go to the house of Jesse, in order to anoint a new king, Jesse paraded all his sons before Samuel but he left David out in the fields watching over his sheep (1 Samuel 16:1-13). For Jesse David was definitely not in the running as there was nothing in him, as far as Jesse was concerned, that gave him the qualities to become King of Israel. Jesse was wrong because God saw David's heart and knew that out in the fields he not only watched over the sheep but he also thirsted for God and got to know Him personally. He grew in faith and his contest with the giant Goliath certainly proved this but he was trained for it and we should never forget it. Faith is like a muscle that we have to exercise and build (Romans 12:3) and so David took down a lion and a bear before he took down Goliath (1 Samuel 16:31-36). We too may think that we are insignificant and forgettable, and even others may think so too, but if we submit to God, expose our hearts to Him and long for Him we too, like David, can make a huge difference in the Kingdom of God.
Spiritual discernment
David was also a faithful and compassionate man and this is reflected in his dealings with Saul and his son Jonathan. When David found Saul sleeping in a cave down at the Dead Sea he could have killed him and taken the crown since Samuel had already crowned him King of Israel, but he didn't. In short David feared God and knew His boundaries. David stayed away from anger, vengeance and hatred. Rather he made place for God to deal with his enemies (1 Samuel 24:10-11) (Romans 12:17-21). We too must embrace the counter culture of the Kingdom of God and thus love our enemies, go the second mile and go out of the way to bless those hurt us. This appears to be weakness but it makes place for God to come to our side and defend us and He will in time. This is exactly what Jesus did since with quietness and meekness He went to His death, as a sheep goes to the slaughter, but what appeared to be weak was in fact strength as by His death He saved the world and God his Father exalted Him to His right hand in glory.
Spiritual neglect
David became negligent, idle and unfocused spiritually and consequently, and sadly, he fell into immorality (2 Samuel 11:1-5). His wicked behavior in terms of his affair with Bathsheba and the murder of her husband are evidence of this and a warning to all of us. We need to keep our relationship with Jesus "hot" and real as this alone will help us to get our bodily drives for sex, food, pleasure and status under control (Revelation 3:15). If we do not attend to our spiritual lives properly and consistently then our "old man" will re-assert itself and even overtake us as it did David (2 Samuel 11). Many Christians have been ensnared in this way and have paid an awful price for it (Philippians 3:17-20). Our spiritual lives are fragile and we must take heed all the time lest thinking we stand we also fall (1 Corinthians 10:12). It is true that we have put to death many carnal aspects of our lives by walking daily in the Spirit but there are some carnal habits that are not dead by any means. In fact they are just sleeping and when the right opportunity comes they awaken as they did with David and overcome us. Paul warns about this in his epistles and encourages us to draw near to Jesus every day (Galatians 6:1-6).
David then reaped the consequences of this wickedness in that his household was thereafter greatly troubled. God forgave him but did not exonerate him or free him from the consequences of his failure-he paid an awful price that brought much heartache to his life. Think very carefully before you betray your covenant relationships with Jesus, your spouse and with the Body of Christ (2 Samuel 12:14; 2 Samuel 12:10-12)(Psalm 103:15-18).
Spiritual deception
David's failure to honor his people in the light of his son's betrayal and treason was another problem in his life from which he suffered greatly (2 Samuel 18:33-9:1-8).  David's faithful and loyal soldiers paid a huge price to save David's life and get him installed as King again but David snubbed them and treated them with disrespect. Our blood ties should never compromise our commitment to the word of God and to the people of God. We will not fair well if we stray into this deception and you can be sure of this; God will test you in this regard. The best way to bless your family, especially those who do not follow Christ, is to be fully committed to Christ and His kingdom. Even Jesus' family, including Mary, felt that He was going overboard "on this religious thing" and came to get Him. When He was told, while preaching to the crowds, that His mother and brothers had arrived to see Him and persuade Him to return home Jesus looked at the multitudes and declared that they who did the will of God were in fact His mother and brothers (Mark 3:31-35).
Spiritual blessing
David's heart after God unleashed a life of devotion reflected in his Psalms that have blessed the people of God down through the centuries. A life though weak, but surrendered to God can have great significance and can change the world. At no time are you worthless and of no use to God! If we turn from our failures and genuinely seek God with all our hearts God will raise us up and make us a blessing to our world. Remember, Jesus came to heal and make whole the broken-hearted (Luke 4:18). David by virtue of all his triumphs and great trials nevertheless loved God and thirsted after Him. His Psalms are a testimony to the amazing depth of His spiritual life and they have continued to bless millions of people down through the centuries. David was often broken-hearted but God made him stand and through him left a legacy for all generations. What legacy will we leave our children and grandchildren?
Spiritual reward
In the end David endured and finished well and his reign will forever be known as "The Golden Era" in Israel's long history. Indeed by his love of God, deep devotional life and his inspiring leadership he became a type or picture of the Messiah Himself. It is not a coincidence that Jesus took as one of His names the title, "Son of David" (Matthew 21:9) and when He comes again He will reign over the world as the, "Root and Offspring of David" (Revelation 22:16).
David's life was in the end crowned with glory but all of this because of his repentant heart (Psalm 51) and the grace of God that forgave and covered his sins. Herein lies our encouragement as we too can end well and receive a Crown of Glory (2 Timothy 4:8). May it be so, Amen.
Malcolm Hedding
2019 Devotional
Weekly Devotional