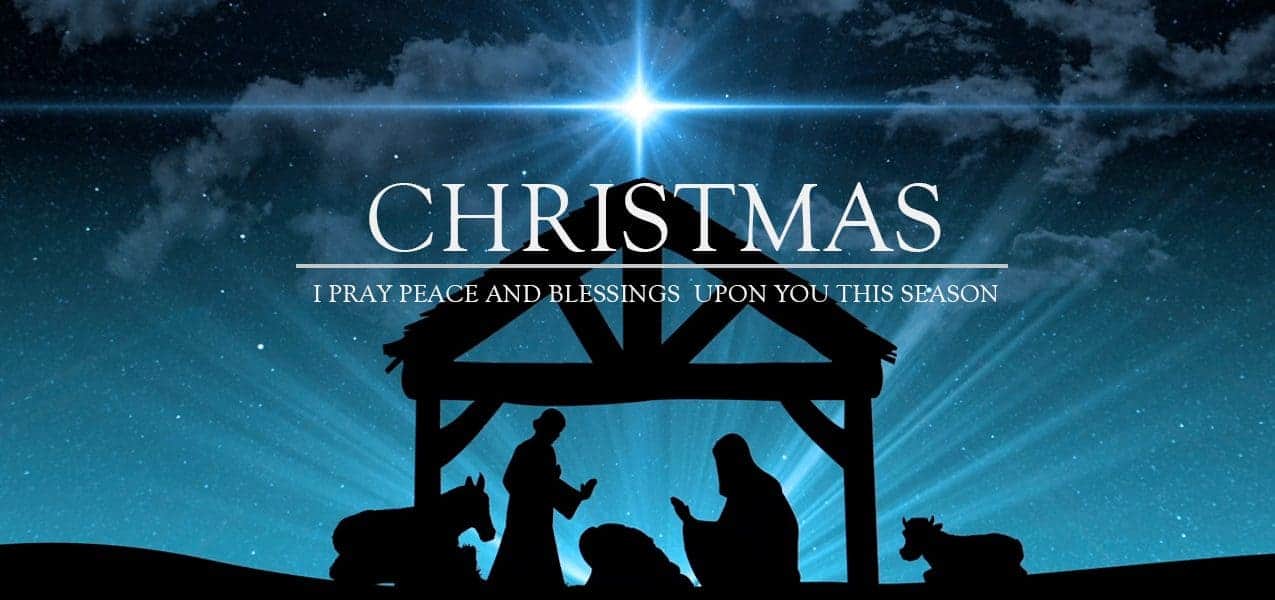 Christmas 2018
"Behold, now is the accepted time; behold now
is the day of salvation."
2 Corinthians 6:2
"Paul, a bondservant of God and an apostle of
Jesus Christ, according to the faith of God's
elect and acknowledgment of the truth which
accords with godliness, in hope of eternal life
which God, who cannot lie, promised before
time began, but has in due time manifested
His word through preaching, which was
committed to me according to the command-
ment of God our Savior."
Titus 1:1-3
At this glorious and very special time of the year we pause for a moment and celebrate the fact that because of Jesus Christ and Christmas Day we can receive and enjoy the certainty of eternal life. This is an amazing message and one that gives real hope and joy to millions of people all over the world. This is for sure "the day of salvation" and it is important that we share this glorious message of hope with our friends and family. Jesus did for us on the cross what we could not do for ourselves and by this once for all sacrifice purchased eternal life for every man and woman on the earth. But this gift has to be appropriated by personal faith and repentance and by a lifestyle, which, as Paul points out, is in accordance with godliness. Essentially this means living a life that is wholly punctuated by love. Only God in Christ can give us this love and pursuing it on a daily basis is well worth it. Paul put it this way:
"For in Christ Jesus neither circumcision nor
uncircumcision avails anything, but faith
working through love."
Galatians 5:6
In other words, it is the life of Christ in us alone that transforms us and that enables us to truly love one another. This is what it means to be a Christ follower and this alone is the final proof that we are in fact Jesus' children and therefore belong to him and all of this because of Christmas Day. To live one's life then without appropriating the significance of Christmas Day would be a tragedy that will lead to eternal loss and sadly many do. We are called to change this by the faithful preaching of the real message of Christmas.
The Suffering Church
At this time of year it would not be appropriate to rejoice, celebrate and spoil ourselves without pausing to think of, pray for and help support the suffering Church; mainly in the Middle East and Africa. Here in these regions of the world the Church of Jesus Christ is being persecuted and literally slaughtered by radical Islamists. This carnage continues in Egypt where the ancient Coptic Church is being assaulted as never before by Islamic radicals and in Nigeria where thousands of Christians have been murdered by Bokoharam and then, in the Nineveh Plains of Iraq the believers in Jesus endure an unending persecution at the hands of Muslims.
Charmaine Hedding, the Director of the Shai Fund writes concerning Egypt, "Egypt's Christian community faces threats of violence during church services, attacks on buses filled with innocent pilgrims and children, and an epidemic of kidnapping, rape, beatings and torture of their women. The problem is that these crimes are common in the villages outside major cities, where these actions occur often with impunity, and even more so because local communities are unwilling to get involved, and therefore the victims receive little or no help."
Even the Christmas story is punctuated with this wickedness and suffering in that Herod murdered every little boy two years and younger in an attempt to kill Jesus (Matthew 2:13-18). We must act and cannot just "pass by on the other side." You can help by donating with confidence to the Shai Fund. Please remember the suffering Church in the world by going to: www.theshaifund.org or write to the Shai Fund at:
Shai Fund,
500 N. Walnut Street,
Murfreesboro,
Tennessee 27130.
Cheryl and I would like to wish you all a very blessed and peaceful Christmas, filled with the love of God and the very real presence of Jesus.
Merry Christmas,
Malcolm Hedding
Blog