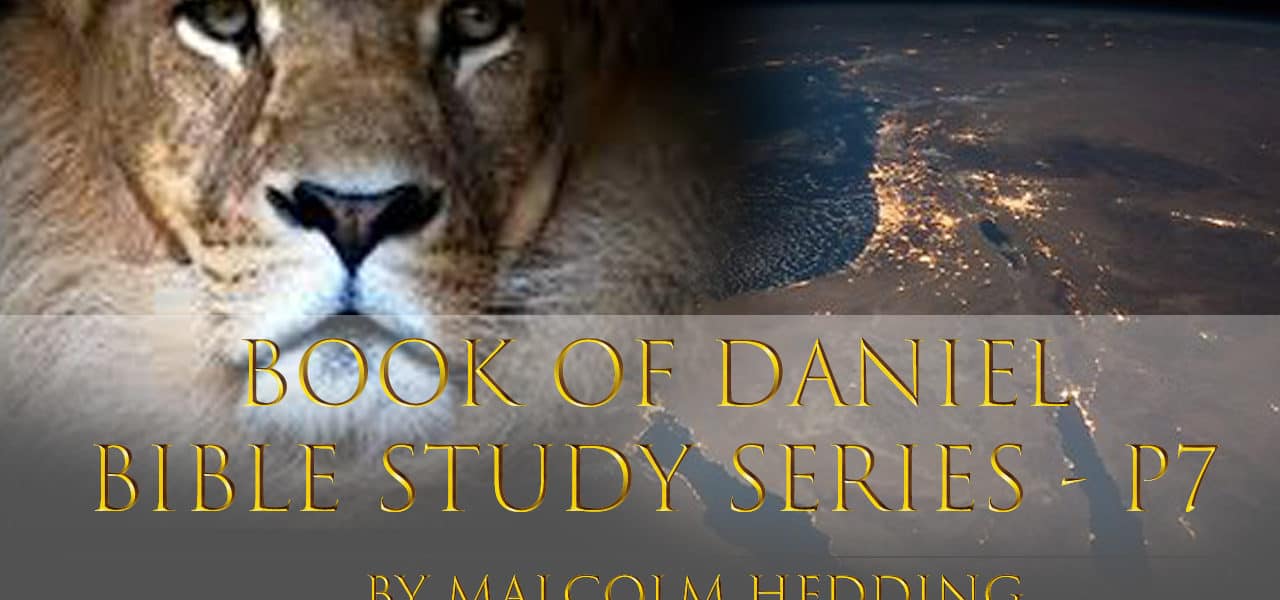 Book of Daniel Bible Studies Series – Part 7
"In the first year of Darius the son of Ahasuerus, of the lineage of the Medes,
who was made king over the realm of the Chaldeans-in the first year of his
reign I, Daniel, understood by the books the number of the years specified
by the word of the Lord through Jeremiah the prophet, that He would accom-
plish seventy years in the desolations of Jerusalem. Then I set my face toward
the Lord God to make request by prayer and supplications, with fasting sack-
cloth and ashes."
Daniel 9:1-3
"And this whole land shall be a desolation and an astonishment, and these
nations shall serve the king of Babylon seventy years. Then it will come to
pass, when seventy years are completed, that I will punish the king of
Babylon and that nation, the land of the Chaldeans, for their iniquity, says
the Lord; and I will make it a perpetual desolation."
Jeremiah 25:11-12
Daniel has seen remarkable visions of the present in his day, of events just ahead of him and of events that lie before. He saw our future and warned us then of things to come. We should heed these and strengthen ourselves by following the God of Israel as he did. That is, with resolve, determination and absolute loyalty. Above all, he bore in his heart the welfare of his people now living in exile and he longed for their return to Zion. Daniel never lost sight of the crucial nature of Israel's calling for the sake of the world. He excelled in his work and became the lead Governor in the Babylonian Empire, the Media-Persian Empire and that of the Persian Empire under Cyrus. He used his unique senior position in all of these Empires to advance the cause of his people. Daniel was in every way a remarkable servant of God infused with the wisdom and power of God.
So, having understood so much of the will of God for his times and beyond he put his mind to studying the Word of God. It is fascinating to note that he had in his possession a scroll containing the book of Jeremiah. Jeremiah was a contemporary of Daniel and obviously he was drawn to his prophetic preaching and believed him. Actually Daniel saw all of Jeremiah's prophetic warnings come to pass and consequently he held Jeremiah's oracle to be the inspired Word of God. Daniel poured over this oracle, as he no doubt did the Torah and historical books of the Bible in order to find a key to Israel's future. This he did when he got to Jeremiah's scroll that promised, after seventy years had passed, that the exile of the Jews in Babylon/Persia would come to an end (Jeremiah 25:11-12). He realized then that this time of exile was now about to be completed and therefore He could take this before God in prayer and call upon Him to honor His word. So, let's be clear about how the following: Daniel could be a remarkable "vessel" in the hands of God because:
1. He had a strong and holy relationship with Him that was tested and found to be unbreakable even though greatly challenged.
2. He lived out his life with an attitude of dedication and excellence.
3. He had a reverence and high regard for scripture……and,
4. He had a real concern and love for the household of faith.
Because of these Daniel knew how to pray and recognized that powerful prayer is rooted in the dictates of scripture. He prayed then by holding up what God had promised before Him and thereby beseeching Him to honor what He himself had said and promised. This teaches us:
1. That the Word of God will not be fulfilled just because God said it.
2. That the Word of God will always be fulfilled because God in time will find someone to hold it up before Him. In this context it is important to note that, in order for God to restore Israel, in all respects, He needed Ezekiel to prophesy to the Dry Bones (Ezekiel 37:1-10). The lesson is clear, if God cannot find you or me to work with Him, then He will find someone else!
3. That we are given in a way joint responsibility with God over the affairs of men. David declared this to be honor that all of God's children have (Psalm 149:5-9).
4. That evil and great wicked principalities are not overcome by railing and ranting against them but by calling upon God our Father to bring them down. The New Testament writers warn of the dangers of railing against great demonic powers but I hear Christians doing it all the time! (2 Peter 2:10-12; Jude 8-9). This is very dangerous as we do not have this authority but we can, covered in the blood of the Lamb, call upon God to bring these demonic entities down as Daniel did, and we should! Daniel's prayers were God directed and, as we shall see in our next study, by them he brought down the great demonic principality of Persia.
Daniel then, convinced by the writings of Jeremiah of Israel's soon coming restoration, humbled himself before God and prayed one of the most remarkable prayers recorded in the Bible. He identified himself with the sins of his people, acknowledging that all the warnings of God in the Torah had come upon them, but also reminding God that, by repentance and His promises to Jeremiah, the time had come for Him to act.
"O Lord, to us belongs shame of face, to our kings, our princes, and our
fathers, because we have sinned against You……….O Lord, according to
all your righteousness, I pray, let Your anger and Your fury be turned away
from Your city of Jerusalem. Your holy mountain; because for our sins,
and for the iniquities of our fathers, Jerusalem and Your people are a
reproach to all those around us."
Daniel 9:8: 16
We must do the same as we seek God for our nations and the welfare of the Church. There are parts of the world where the people of Jesus are being routinely murdered and persecuted. They need our help by believing prayer, that is rooted in the pages of scripture and by our action on their behalf. In this regard please go to the Shai Fund which acts as a God called guardian for these brethren of ours in distress. As regards Israel, the Bible is filled with amazing promises about her future and we can and must hold them up before God and remind Him of these; just like Daniel did! Here below is just one example of this:
"I have set watchmen on your walls, O Jerusalem; they shall never hold
their peace day or night. You who make mention of the Lord, do not
keep silent, and give Him no rest till He establishes and till He makes
Jerusalem a praise in the earth."
Isaiah 62:6-7
Daniel's amazing prayer is answered swiftly with a remarkable revelation about Israel's restoration and the actual date of Messiah's coming! He is told that seventy weeks of prophetic years (490 years) are determined for his people whereby, after 483 years, the Messiah would come and be crucified. These weeks would begin after a decree is given by a Persian King to rebuild and restore Jerusalem. The decree to return to the land of Israel was given by Cyrus but the decree to actually restore Jerusalem and its Temple, was given by Artaxerxes in 445 BC. (Nehemiah 2:1-8). Exactly 483 prophetic years (See footnote) later Jesus was "cut off" or crucified in 32 AD. on the 6th April. This is amazing and serves as a testimony to Daniel's power with God and the high regard that God had for him. Just a seven year period awaits fulfillment of this remarkable revelation and these years will be designated by a fateful peace pact that the coming Beast will sign with Israel. Of this we have spoken much but the time is surely near. We must dedicate ourselves, as never before, to prayer as Daniel did.
Malcolm Hedding
Footnote:
A prophetic year consists of 360 days and not 365 days.
2020 Devotionals
Blog