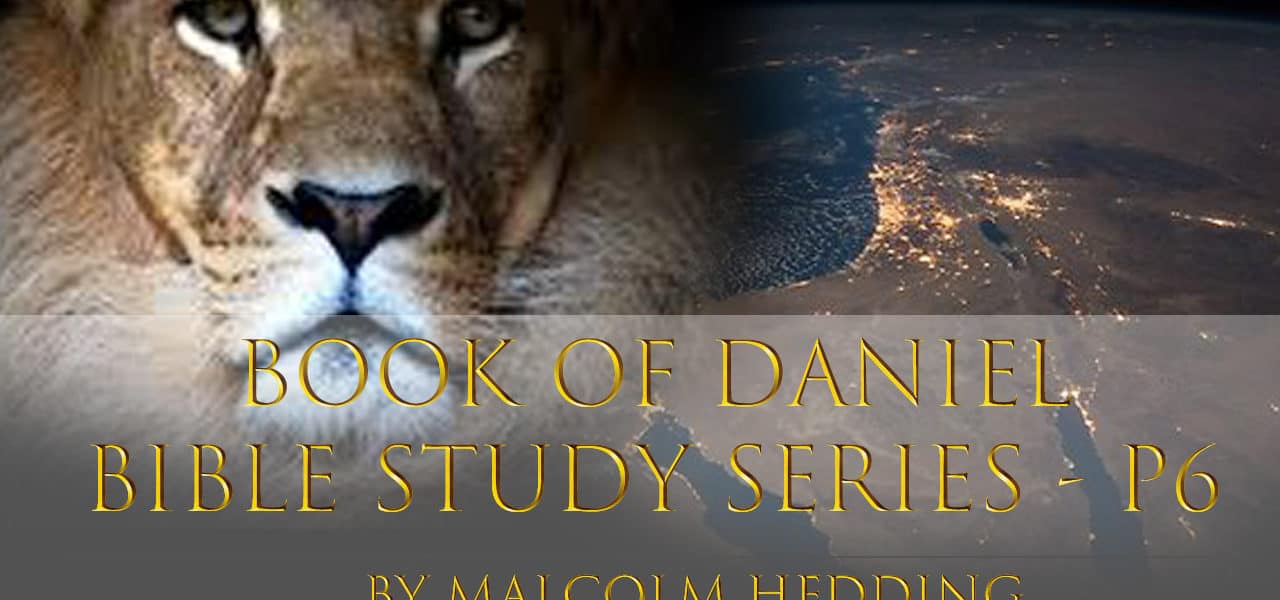 Book of Daniel Bible Studies Series – Part 6
"He even exalted himself as high as the Prince of the host; and by him the
daily sacrifices were taken away, and the place of His sanctuary was cast
down."
Daniel 8:11
"Let no one deceive you by any means; for that Day will not come unless
the falling away comes first, and the man of sin is revealed, the son of
perdition, who opposes and exalts himself above all that is called God or
that is worshipped, so that he sits as God in the temple of God, showing
himself that he is God."
2 Thessalonians 2:3-4
"Then he opened his mouth in blasphemy against God, to blaspheme His
name, His tabernacle, and those who dwell in heaven."
Revelation 13:6
The story so far
The Book of Daniel is the account of four young Jewish men who were taken captive in 604 BC and led into exile in Babylon. They were immediately introduced to a hostile environment that sought to eradicate their belief in the God of Israel and supplant it with the false and demonic gods of Babylon, and those of the Media-Persian Empire. Even the names of Daniel and his three friends were changed to those of the Babylonian gods. These young men realized that if they were to survive they would have to resist and take their stand from the very beginning. This they did even on threat of death. They had a real and living faith and this reality enabled them to stand firm. This constitutes a lesson for all of us, even more so as we now see what is coming!
In the course of their journey they were faced with an Antichrist challenge to their faith. That is, in the Babylonian Empire they were required to worship an image of Nebuchadnezzar and under the reign of the Media-Persian Empire, they were required to worship the King. On both accounts they stood firm and refused to do so and thus they were thrown into a fiery furnace and into a Lions' Den and, on both occasions were delivered because they were innocent, loyal and loved the God of the Bible. The early Church faced the same trials and by their unswerving faith in Jesus eventually overcame and conquered the Roman Empire with their message of God's love for the world in Christ. By contrast, much of the modern day Church is hoping to never have to face such trials and has even invented false theological systems to bolster this notion. They are wrong and have not learned anything from the book of Daniel. The signs of a coming "New World Order", with its Antichrist regulations, are now flashing all around us but they remain in denial. When this New World Order arrives, believe me, there will be a great falling away or apostasy as scripture predicts (2 Thessalonians 2:3). We need to love the truth!
Daniel's heavenly visions predict the arrival of a global confederacy that will divide the world up into ten regions and be ruled over by ten Governors or Presidents (Daniel 7:24) (Revelation 17:12). This will include a one world religious system that will somewhat be like Christianity but, in every way, denying the truth and power thereof. This coming New World Order will sweep away the present global financial system and replace it with a digital one. Cash money will be outlawed and a global electronic currency will be introduced, but only accessed by those who swear allegiance to the New World Order. The book of Revelation, that is built upon the platform of Daniel's teaching, clearly warns of this soon coming monetary system (Revelation 13:16-17). Is anybody listening?
Once this ten nation confederacy is in place a power struggle will emerge in three of these regions resulting in the removal of all three Governors and their replacement by one insignificant and largely unknown individual. He will be the final and most challenging Antichrist of history. Daniel eight warns that he will emerge out of the Middle East and Mediterranean region of the world and in essence, will be totally demonic in nature because, that which the Devil did in casting some of the angelic host out of heaven before time began is attributed to this individual (Revelation 12:3-4). This is why he is said by John, in his oracle, to arise out of the Abyss (Revelation 17:8). He will be a Demonoid! Again we have been warned. This final Beast will be destroyed by Jesus at His second coming and therefore the world awaits his arrival and will welcome him when he steps onto the stage of history (2 Thessalonians 2:8).
This Beast will target the Church and the nation of Israel, and will gain international fame by seemingly, and once and for all, solving the Middle East conflict. He will be the man of the moment and honored as the great man of peace. The world will celebrate a new era of human existence, co-operation and peace and consequently the Beast will glorify himself as god (2Thessalonians 2:4). Those who resist him, like Daniel and his three friends did, will be put to death by beheading (Revelation 6:9-11; Revelation 13:15; Revelation 20:4). Many of God's dear children, washed in the blood of the Lamb, will follow their Savior into heaven in this way.
Daniel Eight
Daniel eight then warns of the coming Antichrists of history but projects this through to the final and terrifying Antichrist of the end. This is called progressive prophetic fulfillment, meaning that one event is repeated again and again. In this case in 168 BC, 70 AD and at the end of the age. Jesus employed this form of exposition and so did Paul. Concerning the rise of Antichrist then, Daniel states the following in his eighth chapter:
He is a "little horn", meaning initially unknown, unimportant and insignificant (V9).
He will gain fame in all regions of the world, including Israel, here named, "the Glorious Land." (v9)
He will be greatly enlarged in his pride and arrogance and will have a hidden demonic identity in that he was the one who, before time, led a rebellion against God (V10).
He will even go so far as to exalt himself above the God of the Bible and therefore stop and prohibit all worship of Him (V11).
He will gain military might by which to attempt to subdue Israel and he will "cast truth to the ground" (V12).
He will only reign in this manner at the very end of days (V19). He has yet to arrive on the stage of history.
He can only arise when the antichrist spirit has swept through the earth undermining the great Judaeo/Christian value system, that upholds biblical family and sexual cultural values and which protects the sanctify of life, especially that which begins in the womb at conception (V23).
He will have great demonic power and by this power he will "destroy the mighty and also the holy people (the saints)" (V24) (Revelation 13:7).
He will be overcome by the coming of Christ (v25) after a period of 2300 days, by which he has brought a reign of terror, evil and blasphemy, such as never has been seen before, upon the earth (Revelation 13:5-6). Adolf Hitler was no doubt a dire warning of these things to come.
All of this is reinforced by Paul in his second epistle to the Thessalonians and by the visions that Jesus gave to John recorded in the book of Revelation. We would be wise to draw near to God, live holy lives and to determine now to resist, no matter what the consequences may be, as Daniel and his three friends did.
Malcolm Hedding
2020 Devotionals
Blog