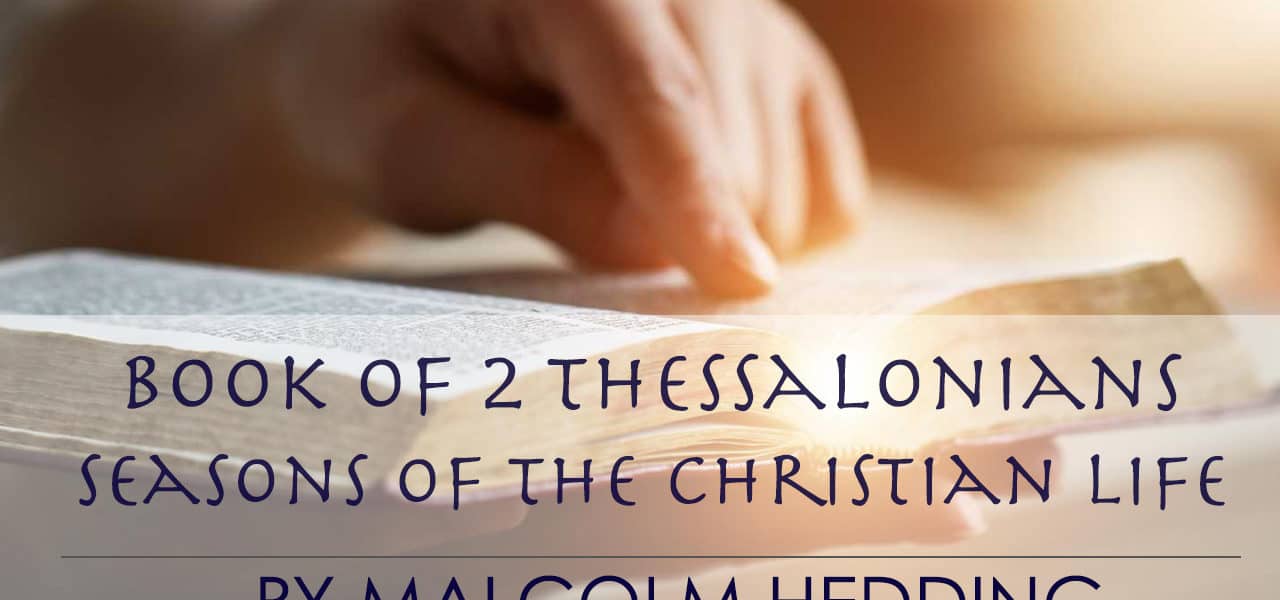 Seasons of the Christian Life
The Church at Thessaloniki was founded as a consequence of Paul's Macedonian Call as recorded in The Acts of the Apostles (Acts 16:6-10). Thessaloniki itself was established in 315 BC and it is situated today in Greece at the north-east part of the country on the Aegean Sea. The old city is still very beautiful and, with the new, is the second biggest city in Greece. The Church was planted somewhere around AD 50 and Paul's epistle to them was written between AD 51/52. It is a relatively short epistle encouraging the believers in the face of persecution and giving them some general instructions about the glorious Second Coming of Jesus. It is most worthy of our careful and diligent study
The Cycles or Seasons of the Christian life
Chapter 1:1-12
The Christian life is always changing and going through seasons or cycles as we take hold of Christ and seek to be transformed into His image. We must know this otherwise when difficult times beset us we can become bewildered and discouraged. The spiritual consequences of this can be serious. So, here in chapter one Paul begins with his familiar greeting and then goes on to encourage them as they walk with Christ. He gives thanks to God for them and then launches into a very interesting overview of the Christian life. Christians, he tells us, will have to face:
1. A cycle of growth V3-4a
"We are bound to thank God always for you, brethren,
as is fitting, because your faith grows exceedingly, and
the love of every one of you all abounds toward
each other."
Christian growth must be in character and in what we do and it must be constant. In other words, love and faith. The faith that Paul talks about here is not the gift of faith but the fruit of faith that grows like a muscle (Romans 12:3). Our lives must impact those around us for Christ and this must be dynamic because Paul uses words like "exceedingly" and "abounds" to describe their embrace of love and faith in Christ. In their case they were well known in the churches for their faithfulness in this regard. What are we well known for?
2. A cycle of judgment V4b-10
"….we ourselves boast of you…..in all your persecutions
and tribulations that you endure, which is manifest
evidence of the righteous judgment of God, that you may
be counted worthy of the kingdom of God, for which you
also suffer;"
The believers at Thessaloniki were facing persecution from ungodly people. Paul reminds them that this is evidence of God's judgment over their lives. In the context here this must be understood, not as God's anger or disapproval but as His correction. We are all subject to this and, believe me, this season will come to all of our lives and, if it doesn't, then we do not belong to Christ. The writer of the book of Hebrews reminds us of this in his twelfth chapter. For Paul then, this judgement cycle or season is:
(A) External, in that we have embraced the kingdom of God that will always challenge, and be in conflict with, the culture around us. This culture will always then resist us because we "have turned the world upside down." In short, our troubles prove that we belong to heaven! Thus our trials prepare us for an eternal future in the kingdom of God.
(B) Internal, in that it refines and purifies our characters. Some carnal habits and pursuits do not leave our lives because we pray, read the Bible and attend Church albeit very sincerely. No, sin can be so ingrained in our lives that only troubles and trials will remove it. Sadly, this is the way we all have to walk and it is the way of the cross. We must die to the self life and learn to choose the way that Jesus would take. This is not easy and it is the cross that we must pick up daily.
(C) ironic, in that the people, or troublers, prepared for hell are the people that God uses to prepare us for heaven! Here we are told that the people who persecute the Church will be severely dealt with at Jesus' second coming. They will be banished to "everlasting destruction" away from the presence of the Lord. Death is not annihilation but eternal separation from God. These are all those who have rejected the good news of Jesus but by troubling the church have better equipped it for heaven.
3. A cycle of glorification V11-12
"…..that the name of our Lord Jesus Christ may be glorified
in you, and you in Him, according to the grace of our God
and the Lord Jesus Christ."
Paul prays that they will be worthy of this calling and follow through with it because if they do Jesus will be glorified in them. The tense here is present continuous meaning that they will enter a season wherein the grace and love of Jesus will shine through them and be infectious. Oh what a wonderful season this is!
A final note:
"……..since it is a righteous thing with God to repay with
tribulation those who trouble you, and to give you who are
troubled rest with us when the Lord Jesus is revealed from
heaven with His mighty angels in flaming fire taking
vengeance on those who do not know God….."
It is clear from this passage that the "troublers" will in the end be dealt with on that "Day" when Jesus comes a second time in flaming fire, and in the presence of many angels, to the Mount of Olives. It is to be noted, as well from the text, that this will also be the first day that the true followers of Christ will see Him and get rest from their earthly trials and troubles. This will not be at a secret rapture but an all glorious, visible and dramatic one when Jesus comes back to the earth in flaming fire with His mighty Angels. It is, according to Paul, on this day, that Christ's followers will be resurrected and first gaze upon Him. They, we are told, will be overcome by His brilliance and glory. There is precisely nothing secret about the rapture of the Church! See footnote.
May God by Jesus Christ count us worthy of these things. Amen!
Malcolm Hedding
Footnote:
The early church document called the Didache, that nearly made it into the New Testament Canon, and written in the Galilee round about 50 AD, states, as concerning the second coming of Christ:
"Gather frequently together, seeking the things which benefit your souls. For the whole span of your faith will not profit you if you do not persevere until the end. For in the last days the false prophets and corrupters will be multiplied, and the sheep will be turned into wolves, and love will change into hate.
As lawlessness increases they will hate, persecute and betray one another. Then the Deceiver of the world will appear as the Son of God, and he will do signs and wonders and the earth will be given into his hands and he will do terrible abominations surpassing all evil done since the beginning of the world. Then all of humanity will be tried by fire and may succumb and perish. But those who endure in their faith will be saved from the cursed one.
Then will appear the signs of truth with the first sign heaven opens, then the sign of the sounding trumpet, and thirdly the resurrection of the dead. Yet not of all the dead, but as it is said, "The Lord will come and all His saints with Him. Then the world will see the Lord coming on the clouds of heaven."
Blog