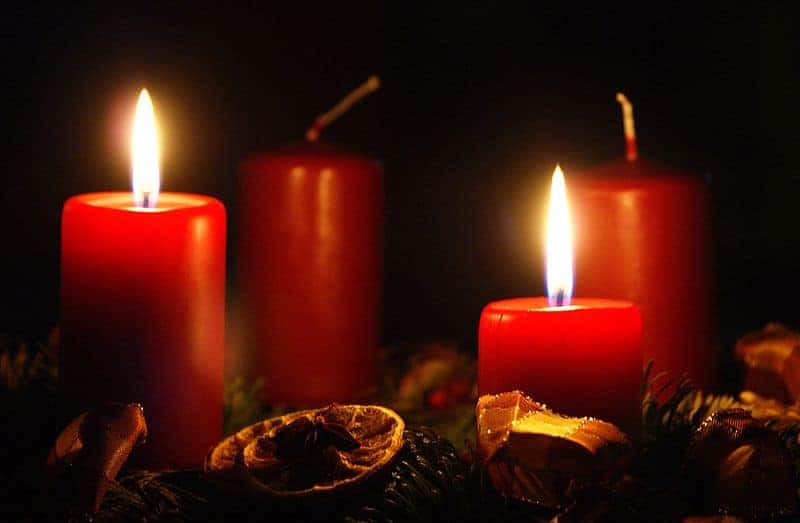 The Hope of the World – Week 50 / December 5th
 The Second Week Of Advent 2016
                                                'Then the angel said to her, "Do not be afraid, Mary,
                                                 for you have found favor with God. And behold, you
                                                 will conceive in your womb and bring forth a Son, and
                                                 shall call His name Jesus. He will be great, and will be
                                                 called the Son of the Highest; and the Lord God will
                                                 give Him the throne of His father David. And He will
                                                 reign over the house of Jacob forever, and of His king-
                                                 dom there will be no end"
                                                                                                                            Luke 1:30-33
Here in this simple passage of scripture we have a proclamation that changed the world forever and gave it hope. This passage dispels the gloom of human existence and assures us that God loves us all and has stepped down into this world in His Son to save us and fill us all with eternal hope. The work of Jesus is "forever" and those who travel life with Him will never die since His kingdom will have no end. Good news indeed and worthy of celebration. We should note the following and meditate upon them this Christmas time:
A Son whose mane is Jesus
Jesus, or Yeshua in Hebrew, means Savior. The Bible most certainly defines the human being as being "fallen." That is, lost in hopelessness and gloom because they have rebelled against God and have been banished from His eternal presence. This rebellion against God is called sin. This sin has impacted our natures and consequently our actions in a way that we cannot find our way back to God. We cannot attain to His righteousness and we cannot escape His penalty for our state of existence but God has sent us a Savior whose mane is Jesus. We may ask, "Why did He do this?" The answer is clear; because He loves us!
A Son who is the Son of the Highest
Jesus was born of a virgin in order to escape our fallen natures. He was conceived by the Holy Spirit! However, this means that He was begotten and was therefore God in the flesh. That is, perfect God and perfect man, truly a Godman. He lived His life out in a broken, sinful and dark world, resisted temptation, never sinned and then atoned on the cross for our sins. So, by the power of an indestructible life He saves us and reconciles us to God. We are declared righteous and made righteous by His life in us. Rightly do we worship Him and give Him praise.
A Son who is King of Israel
Jesus is of David's line, and is therefore the King of Israel and will come back to reign over the house of Jacob. He will not abandon His people Israel and the promise of her deliverance and blessing is bound up in His soon coming. He will not fail His people Israel and even in this dark hour when anti-Semitism is on the rise everywhere Jesus is getting ready to defend a Jewish Jerusalem and take up His throne. What wonderful news to meditate upon at Christmas time.
A Son who will reign forever
Mary's boy child will rule the universe forever! This is the promise of the Angel sent from Heaven. It is a sure promise and will not fail. Not everyone will share it with Him as only those who have linked their lives to His will go into His eternal kingdom. The world has a King and by Him can live forever but sadly too few embrace and love Him. Upon this simple response hangs the eternal destiny of all people. Quite a thought.
We will shortly celebrate the Son of God's birth into our world so many years ago and, as we do, let us meditate on these things and hold them dear and close to our hearts just as Mary did. Merry Christmas!
Malcolm and Cheryl Hedding
2016Devotional
2016Devotional
Blog