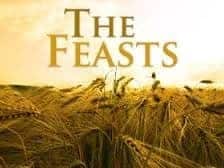 The Feasts of the Lord – Week 30 / August 4th
"Now these things became our examples, to the
Intent that we should not lust after evil things as
They also lusted." 1 Corinthians 10:6
The Feasts of the Lord contain important information about our walk with Jesus in that they teach us great redemptive truths and they give us an understanding of where we are in terms of God's calendar. It is my view that we are rapidly moving toward the fulfillment of the last great pilgrim feast of the Feast of Tabernacles. That is, the day when Jesus will come back to Jerusalem and set up His earthly kingdom. (Zechariah 14:16-21) All of these, mediated to the world by Israel, are worthy then of our examination. There are three great Pilgrim Feasts:
Passover
"Know that you were not redeemed with corruptible
things, like silver or gold, from your aimless conduct
received by tradition from your fathers, but with the
precious blood of Christ, as of a lamb without blemish
and without spot." 1 Peter 1:18-19
This Feast celebrates the door to the Kingdom of God which is only the spilt blood of Jesus. (John 1:29) Only the blood of Jesus applied to your life can deliver you from sin, sins, the Devil and most of all the wrath of God and hell. (1 Thessalonians 1:10) Hell is a reality that we must not discount and all those who reject God's grace in Christ will end up there. While it is not God's purpose that any should perish and go to hell (2 Peter 3:9) it certainly remains for us to square up to the claims of Christ and thereby to accept or reject Him. Rejection will land us in a place that was only meant for the Devil and his angels. (Matthew 25:41)(Revelation 20:15) You need a supernatural deliverance and God provides it in Christ's spilt blood alone. By Him you have the power to miraculously cross the Red Sea and so you will be empowered to never go back again!
"Therefore purge out the old leaven,that you may be
a new lump, since you are truly unleavened. For indeed
Christ our Passover was sacrificed for us." 1 Corinthians 5:7
Pentecost
"And when Paul had laid hands on them, the Holy
Spirit came upon them, and they spoke with tongues
and prophesied." Acts 19:6
This Feast celebrates the power of the Kingdom of God. That is, Word and Sprit! On the Day of Pentecost, fifty days after the Israelites came out of Egypt God gave His word to the world accompanied by fire and thunder and just fifty days after the resurrection of Jesus the Holy Spirit came down upon the waiting disciples, at nine o clock in the morning, in tongues of fire and wind. God empowers us to do His will in the world when we know the word of God and are filled with His Spirit. So, the Baptism of the Holy Spirit is far more than the reception of power; it means that the one receiving it is immersed in the life and power of God in a new way.
"However, when He, the Spirit of truth has come, He will
   guide you into all truth; for He will not speak on His own
 authority, but whatever He hears He will speak; and He
      will tell you things to come. He will glorify Me, for He will
 take of what is mine and declare it to you."
 John 16:13-14
 "Behold, I send the Promise of My Father upon you; but
 tarry in the city of Jerusalem until you are endued with
power from on high."
 Luke 24:49
  "When the Day of Pentecost came……"
Acts 2:1
The key words here are: Thirsting, obedience, surrender and holiness. (John 7:37; Acts 5:32; Hebrews 12:14) We definitely need a new Pentecost in the Church made evident by speaking in tongues and prophetic utterances. (Acts 11:44-46)
Tabernacles
"And it shall come to pass that everyone who
is left of all the nations which came up against
Jerusalem shall go up from year to year to
worship the King, the Lord of Hosts, and to
keep the Feast of Tabernacles." Zechariah 14:16
This Feast celebrates the ultimate triumph of the Kingdom of God, over all that is wicked and evil, by the coming of Jesus to the Mt. of Olives. When Jesus comes He will set up His earthly kingdom and so from Jerusalem He will rule the nations "with a rod of iron." (Revelation 12:5) The original celebrants of this Feast lived in leafy booths for eight days thus demonstrating their:
Celebration of God's ways. We are saved to follow Christ
Celebration of God's power. We are saved to live super-normally!
Celebration of God's provision. We are saved from anxiety.
Celebration of God's strength. We are saved to overcome.
Celebration of God's family. We are saved to reign.
Celebration of God's faithfulness. We are saved to bless Israel as Jesus returns to Jerusalem.
   "And I heard a loud voice from heaven saying, "Behold
 the tabernacle of God is with men, and He will dwell
with them, and they shall be His people. God Himself
 will be with them and be their God."
 Revelation 21:3
Malcolm Hedding
2015Devotional
Blog