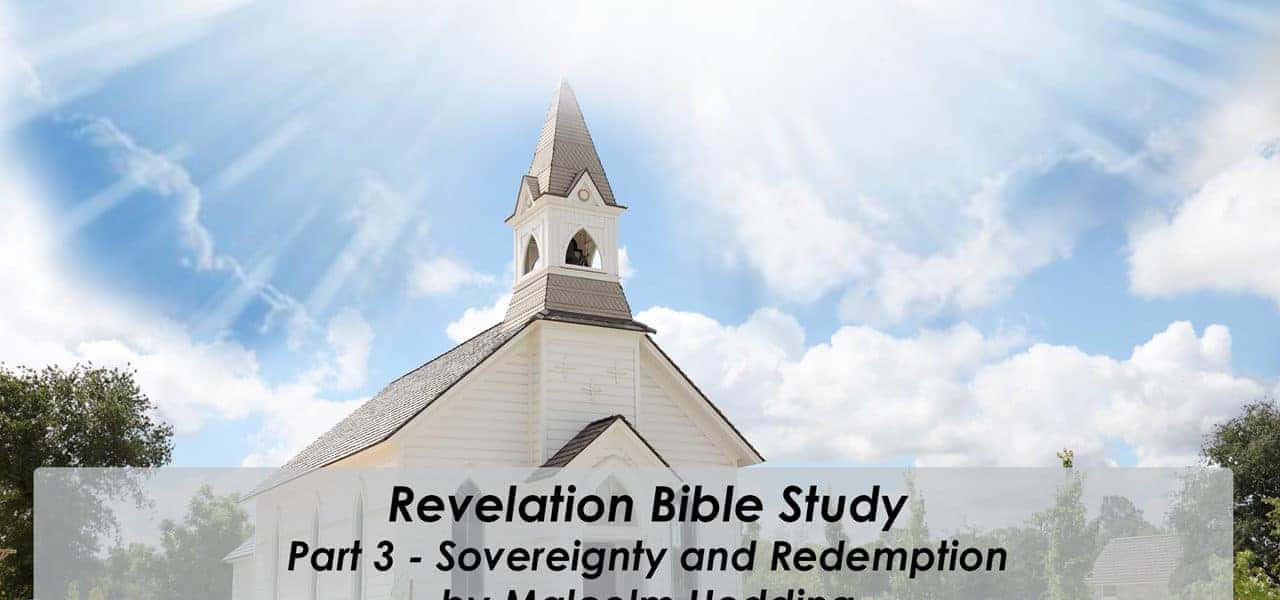 The Book of Revelation – Part 3 Sovereignty and Redemption
Before we encounter the dramatic events of the end time, which will unfold on earth so as to facilitate the Revelation or Second Coming of Christ, we are introduced to the two realities that anchor our faith in God. These are the following:
1. Sovereignty
"You are worthy, O Lord, to receive glory and honor and power;
For You created all things, and by your will they exist and were created."
Revelation 4:11
At the beginning of chapter four John is called into heaven and once there his eyes gaze upon the very nerve center of the whole created order; the Throne of God. This Throne is all glorious and is encircled by an Emerald Rainbow. It is also transcendent and therefore entirely removed from creation. The Throne of God is then self sufficient, magnificent beyond words and all powerful.
Encircling this Throne is a heavenly court of angelic elders and the Almighty Himself. He is not seen but is described as the combined brilliance of Jasper and Sardius stones. Seven Lamps of fire, symbols of the seven attributes of the Holy Spirit (Isaiah 11:1-2), are set there as well and four Living Creatures, symbols of Jesus' life and ministry as reflected in the four written Gospels, are also in attendance. This glorious scene, unfolding before John's eyes, sits on a magnificent Sea of Glass. Everything here speaks of rest, control, authority and power. There is no sense of panic, urgency and crisis here because an all powerful and sovereign God is in total control of His world and therefore His eternal purpose is on track and cannot be subverted. Nothing, absolutely nothing, can shake Him, but He can shake the world and will! Hebrews 12:25-26
All of the heavenly host rightly worship Him and acknowledge His holiness and glory. They ascribe blessing to His wonderful name and proclaim that indeed, He created all things and that by Him they consist and are upheld. This is bold truth sweeping away the foolishness of godless evolution! As we see this scene, by the help of the Holy Spirit who illuminates the pages of scripture, we too, like John, are caught up into heaven and long to be there.
Our God is indeed sovereign and exists as three persons and all of these have the very same essence (John 10:30). In these turbulent and dark days we need to rest our eyes and faith upon these things. The message of chapter four is clear, heaven has everything under control and, if we will focus on this glorious place, we will have nothing to fear and a wonderful joy and peace will flood our hearts.
2. Redemption
"You are worthy to take the scroll, and to open its seals;
for you were slain, and have redeemed us to God by
Your blood out of every tribe and tongue and people
and nation, and have made us kings and priests to our
God; and we shall reign on the earth."
Revelation 5:9-10
The situation on earth is entirely different, it is chaotic and filled with the darkness and wickedness of sin. Even the natural creation of fawn and flora has become fallen, down graded and polluted because of humankind's rebellion against God (Romans 8:18-22). It anxiously awaits a resolution to the problem. John, overcome by this appalling reality, looks for a deliverer on earth who will save the earth and her inhabitants from this great chaos and wickedness. One who would bring an end to evil, sinfulness and alienation from God but there is no one because the problem begins with humankind's relationship with God. But, of a truth, the chasm or breach between God and the people of this world is so great and far reaching that no human being can close it. It is, in all respects, a bridge too far because humankind's sinfulness falls hopelessly short of the perfection of God, even our very best efforts cannot save us (Ephesians 2:8-10; 1 Peter 3:18). We are consequently forever separated from God and therefore doomed and destined to spend eternity under His wrath! John we are told, wept!
Indeed, would to God, that we would all weep because of our sinful condition, but then John sees a Lamb, as if slain, and He steps forward to take the Scroll of Seven Seals from the hand of God. This is the Title Deed to all things on the earth by which sin is cast out, evil is overcome and men and women can be reconciled to God and delivered from the ravages of the Devil (2 Corinthians 5:18). By the Lamb's indestructible and perfect life and, by His death on the cross and resurrection, He has breached the chasm and reconciled us to God His Father. He has thus, if received by faith, defeated the grip that sin has on our hearts, He has delivered us from all demonic power and He has paved the way, by His Revelation or second coming, to finally assert His liberating authority and power over creation and the human race. Heaven rightly rejoices. Revelation 11:17-18
The Lamb will thus open the seven sealed document. This imagery, for our understanding, is taken from the book of Jeremiah, since in his day when you bought property it only became yours when you actually stood on it and broke the final seal of the deed of sale (Jeremiah 32:9-12; Jeremiah 37:11-12). When Jesus puts His feet on the Mt. of Olives then the final seal will be broken and the " kingdoms of this world will become the kingdoms of the Lord and of His Christ" and we shall reign on the earth with Him. What an amazing day of triumph this will be. No wonder it is the blessed hope of the Church ( Titus 2:11-13).
In essence then, the Scroll of Seven Seals is the key to understanding the book of Revelation because all else in the book is an in depth commentary of these seals. This commentary includes a description of cataclysmic events and the "players" around them like Israel, the Antichrist, the Two Witnesses and Babylon.
Malcolm Hedding
Click here to watch the video message
Blog