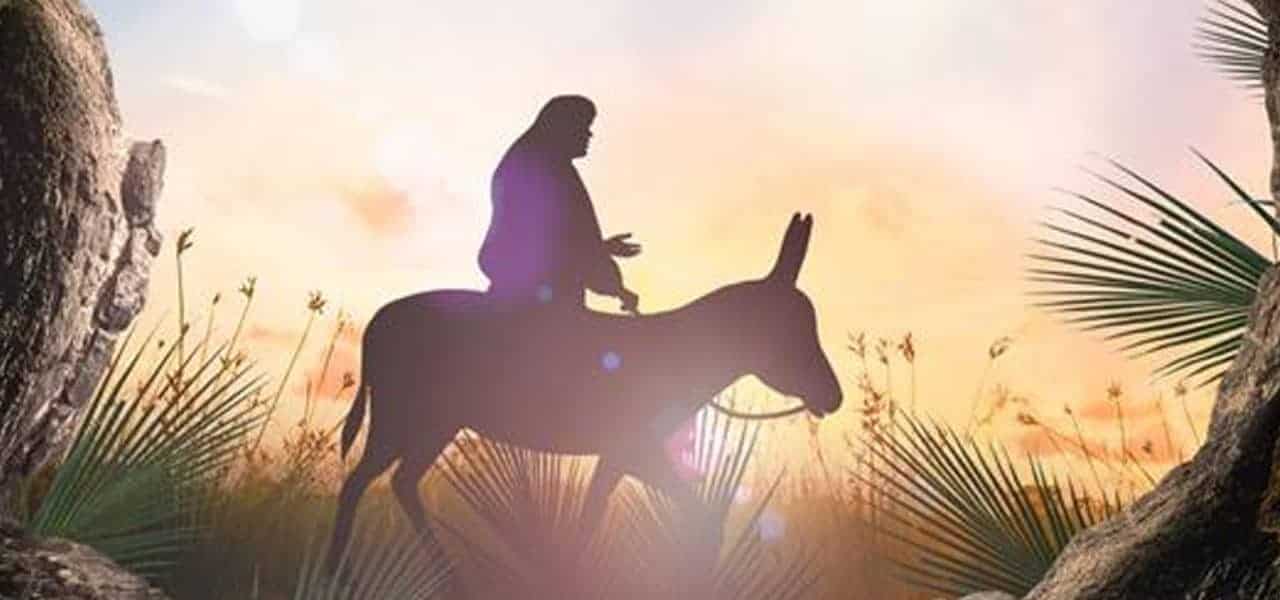 Passover Reflections
"Finally, brethren, whatever things are true, whatever things
are noble, whatever things are just, whatever things are pure,
whatever things are lovely, whatever things are of good report,
if there is any virtue and if there is anything praiseworthy-
meditate on these things."
Philippians 4:8
What has become known as the Passion Week begins with Jesus' triumphal entry into Jerusalem on Palm Sunday (Mark11:1-11). This event is worth some consideration as it is filled with symbolism and, most important of all, it fulfills the prophetic scriptures. These prophetic scriptures promised that the King of Israel would present Himself to His people by riding into Jerusalem on a donkey; a symbol of humility.
"Rejoice greatly, O daughter of Zion! Shout O daughter
of Jerusalem, behold your King is coming to you, He is
just and having salvation, lowly and riding on a donkey,
a colt the foal of a donkey."
Zechariah 9:9
We would do well to meditate on these things:
1. Jesus came to the people of Israel
His love for them was great and overwhelming since He knew that they were living under the heel of Rome. This complicated their lives as Rome exacted taxes from them and ruthlessly applied its dominion over every part of their lives. This in turn bred discontent, suffering and even rebellion against the regime. The latter was cruelly put down by the Roman occupiers (Acts 5:33-39).
All this reminds us that Jesus was first and foremost called to the people of Israel, "The Daughter of Zion." His love for His people Israel has never changed and never will. Paul testifies to this in his Roman epistle when he writes,
"Now I say that Jesus Christ has become a servant to the circumcision
for the truth of God, to confirm the promises made to the fathers, and
that the Gentiles might glorify God for His mercy……" Romans 15:8-9
Whatever the reasons may be for Israel's rejection of Jesus, the fact is He still cares for them, loves them and will never abandon them. His great love also extends to the Gentile world and this means, especially at this time of global pandemic, we should all seek Him, draw close to Him and serve Him. Passion week draws our attention to the majesty of Christ, a majesty that has no equal in the world, and it is clothed in His simple clothes and the beauty of His character. Scripture affirms that we should, "Consider Him…. (Hebrews 12:3)."
2. Jesus came as King
The idea that Jesus came to Israel firstly and only as a "Suffering Servant" is not scriptural. The text of scripture affirms that He presented Himself as the true and only King of Israel. Had He been accepted by His people the glorious Kingdom of God, bringing peace and joy to the world, would have been ushered in. The great Psalmist of Israel writes of this kingdom in these terms:
"I will declare the decree: the Lord has said to Me, you are my
Son, today I have begotten you. Ask of Me, and I will give You
the nations for your inheritance, and the ends of the earth for
Your possession." Psalm 2:7-9
The fact is, though delayed, the King is still coming and His feet will stand on the Mt. Olives (Acts 2:9-11). This day is fast approaching and we must keep our eyes upon it especially as we witness our world in such upheaval, chaos and fear (Titus 2:11-13).
3. Jesus came as a Suffering Servant
The fact that Jesus rode into Jerusalem sitting on the foal of a donkey gave
expression to His humility that would unfold and thus be observable in His sufferings and death. In a certain sense the whole world was responsible for His death in that He suffered and died for each one of us and thereby removed our sins and their consequences from our lives. This means that we are freed from the wrath of God, forgiven, declared righteous and made righteous by the in-dwelling power of the Holy Spirit (Ephesians 3:14-21) (1 Thessalonians 1:9-10).
This is the gift of God to the world and it is mirrored in the Passover story:
"For the Lord will pass through to strike the Egyptians; and when He
sees the blood on the lintel and two doorposts, the Lord will pass
over and not allow the destroyer to come into your houses to strike
you. " Exodus 12:23
Peter puts it this way:
"Knowing that you were not redeemed with corruptible things, like
silver or gold, from your aimless conduct received by tradition from
your fathers, but with the precious blood of Christ, as of a lamb
without blemish and without spot." 1 Peter 1:18-19
And John the Baptist, when seeing Christ approaching, cried out:
"Behold! The Lamb of God who takes away the sin of the world." John 1:29
It is important to note that both the Apostle Peter and John the Baptist refer to Jesus as the Lamb of God. By this imagery they take us back to the Passover story where the blood of a lamb saved the Israelites from destruction (Exodus 12:21-23). This is precisely what Jesus has done for all of us! He has saved us from the Destroyer or the wrath to come.
Palm Sunday reminds us of these things, and we should meditate and think deeply upon them. The Savior of the World has come and consequently we should be filled with sorrow (repentance) and joy. Sorrow, because our sins brought such suffering to the Son of God and joy, because by His passion He has purchased eternal life for us. This is the full and wonderful love of God extended to the world; be sure to receive it.
Malcolm Hedding
Blog