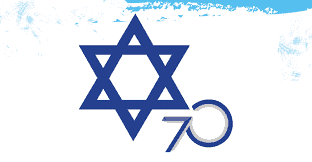 Israel at 70
"In Israel in order to be a realist you must believe in
                                                            miracles."
                                                     David Ben Gurion
            "Thus says the Lord, Who gives the sun for a light by day, the ordinances
             of the moon and the stars for a light by night, Who disturbs the sea, and
             its waters roar (The Lord of hosts is His name): If those ordinances
             depart from before Me, says the Lord, then the seed of Israel shall also
             cease from being a nation before Me forever."
                                                            Jeremiah 31:35
            "I will bring back the captives of My people Israel; they shall build the
             waste cities and inhabit them; they shall plant vineyards and drink
             wine from them; they shall also make gardens and eat  fruit from them.
             I will plant them in their land, and no longer shall they be pulled up
             From the land I have given them." Says the Lord your God."
                                                            Amos 9:14-15
70 years ago, as a consequence of the United Nations partition vote, Israel came into existence as a nation with international approval and legitimacy. Though resisted at the time by five Arab armies that attacked her, she bravely withstood this unprovoked act of aggression and emerged proud and stronger than ever. Israel's arrival in 1948 on the stage of the world was against the tide of history and in every respect a living miracle that has continued to unfold before our very eyes. There is in fact no explanation for Israel's survival other than that the God of Israel and of the Bible has been, is and will be, behind it. In the end, because of His remarkable intervention in this regard all nations will come to know that He alone is the Lord of heaven and earth.
For some, even and sadly in the church, this miracle enjoys no biblical significance just as there were those who claimed this when the Jews returned from the Babylonian exile to rebuild their state some 500 years before Christ. They too shouted out in resistance and attempted to wage war against the returning exiles on the grounds that such a return was unjust and a violation of their concept of social justice (Nehemiah 4:1-14). Nothing has changed! They failed then and they will fail now.
Scripture clearly affirms that Israel will exist as a nation before God just so long as the sun, moon and stars are in the skies above us and it further states that a return of the Jews, to the very land of their forefathers, will take place one day wherein they will never be plucked up or removed from the land again (Amos 9:14-15). Quite clearly the prophet Amos is not speaking about their return from Babylon as they were indeed plucked up again and exiled in 70 AD. No, this amazing prophetic statement   by Amos has only found fulfillment in our day! We rejoice in the inspiration and remarkable accuracy of the Bible.
Of a truth all of this happened because of God's faithfulness to His covenant made with Abraham some 4000 years ago. This covenant, having many parts, including that of a coming Messiah, guarantees that the land of Canaan is the everlasting possession of the Jewish people (Genesis 17:7-8; Psalm 105:7-12). According to Paul, and the writer of the book of Hebrews, this covenant can never be annulled or adjusted (Galatians 3:15; Hebrews 6:13-18). Because of these faithful undertakings God has always restored His people to His land that He, in His desire to bless the world, bequeathed to them. In short, we serve a faithful God Who has demonstrated in Israel's restoration that He can be trusted because His mighty deeds are validated by scripture and confirmed in the earth. Most of all they are to be seen especially in His kindness to the Jewish people. Truly, the time to favor Zion has come (Psalm 102:12-15).
My friends, Israel will not be dismantled though many have tried and still will attempt to do so because the God of Israel neither slumbers nor sleeps as He watches over her (Psalm 121:4). They who would attempt to remove Israel from the earth in the name of their false gods will first have to remove the God of the Bible from His glorious throne! In the end, though great nations attempt to dismantle Israel, they will rupture themselves and, as in the past, vanish into oblivion (Zechariah 12:1-3).
So then, a people who have experienced such destruction and loss through the centuries can rightly rejoice on the 70th year of their restored and glorious third commonwealth. We rejoice with them and we bless and pray for them because their existence has only been for the blessing of the world and still will be, even for those who have been most set against them. This is a day of great rejoicing since it comes on the heels of a glorious jubilee year that has witnessed the decision to return the USA Embassy to Jerusalem. By the way this is only the beginning since our eyes will yet behold great and wonderful things in Zion as Israel moves closer and closer to the amazing destiny that God has for her. Blessed be the God of Israel!
Malcolm Hedding
Blog