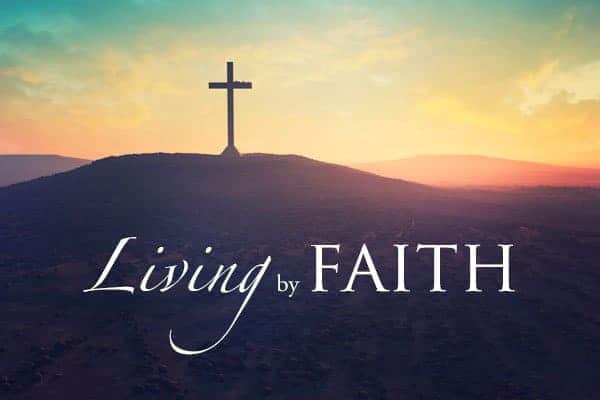 Faith to live by
"But without faith it is impossible to please Him, for he who
             comes to God must believe that He is a rewarder of those
             who diligently seek Him"
                                                            Hebrews 11:6
Definition
Faith is the unshakable belief in the reality and existence of God and that He is able to do anything and everything when diligently petitioned."
The nature of our commitment to Christ
The Bible tells us that when we surrendered our lives to Christ we handed our lives fully and completely over to Him. We surrendered possession of ourselves to the God of heaven!
"… and He died for all, that those who live should
             live no longer for themselves, but for Him who died
             for them and rose again."
                                                    2 Corinthians 5:15
            "Or do you not know that your body is the temple
             of the Holy Spirit who is in you, whom you have
             from God, and that you are not your own?"
                                                       1 Corinthians 6:19
The nature of faith
The messianic believers referred to in the book of Hebrews did not expect to be persecuted and abused when they embraced Christ as their Lord and Savior. They expected a different outcome and so when these difficulties arose they were disappointed and considered abandoning their faith and returning to Judaism. Consequently the writer of the book exhorts them to continue and to have faith in the reality and goodness of God.
That is, he desires that they should entrust themselves to Him and in so doing he reminds them of the Prophet Habakkuk who, having encountered the same dilemma, was told by God that he would have to trust Him by walking in faith. Hence we have the famous statement, "The just shall live by faith." True faith does not determine the outcome but believes that whatever the outcome it will be for our good and that God has indeed answered (Hebrews 10:32-39). Actually, this is precisely Paul's point in Romans 8 where he declares that in fact we do not really know the outcome of our prayers but we confidently entrust ourselves to a loving God who will cause "all things to work together for good" for those who love Him (Romans 8:26-28).
Hebrews 11:1-6 is a response to Hebrews 10:32-39 and a preamble to the great passage that follows, which many call the "role call of faithful people." In other words the context of the chapter will reveal what his definition of faith in verse one of chapter means i.e.
"Now faith is the substance of things hoped for, the
             evidence of things not seen."
It is very important to note that in every case here mentioned faith is a positive response to the self-revelation of God. That is, people accomplished great things not because they knew the outcome of their journey but because they knew the God of the journey! This is precisely why the more one knows the Bible so the more one comes to know who God is. "Faith comes by hearing and hearing by the word of God." (Romans 10:17)
Consider this: Abraham did not know where he was going when he left Ur of the Chaldeans and he did not know that Isaac would be spared when God called upon him to sacrifice him. Enoch so trusted in God that, though he was well pleasing to God, he did not know that God would one day take him. Moses' mother trusted in God but did not know that when she put Moses in the river that Pharaoh's daughter would find him and adopt him. Neither did she know that she would end up nursing her own son. She had faith in God but did not know the outcome. Some of these great saints trusted God but never expected to be sawn in two and then all of them died having never experienced the full outcome of their faith (Hebrews 11:13). They had faith in that they fully entrusted themselves to God, as they were not their own, and they left the outcome to Him.
In fact it must be noted that Abraham's biggest mistake was to seek to determine the outcome of his walk of faith by manipulating the production of a son through one of his servants called Hagar. He could not trust God and consequently his attempt to "determine the end" gave birth to Ishmael and with him came a huge conflict that still rages to this day. Despite all of this Abraham remains a great man of faith who was able to trust God fully with his life.
Seeking to determine the outcome is actually like playing "Russian Roulette." It's a dangerous game and while sometimes it works in most cases it doesn't and the consequence are not good to say the least. For instance, in the case of healing, not even ten percent of people prayed for are healed in the way that we hoped for and firmly affirmed. A lot actually die even though time and time again we pronounced them healed and urged them to hold to this positive confession. The burden placed upon these people is immense and truly quite cruel but we persist in this call to faith because we have falsely believed that this is what faith is. It is not! Please remember that even Jesus struggled with the outcome of His faith journey and had to learn to entrust Himself fully to God His Father:
"…who in the days of His flesh, when He had offered up
             prayers and supplications, with vehement cries and tears
             to Him who was able to save Him from death, and was
 heard because of His godly fear, though He was a
             Son, yet He learned obedience by the things which
             He suffered."
                                                Hebrews 5:7-8
Faith is the unshakable and unswerving belief in a righteous and good God who will always answer our prayers but in His way. To determine the outcome is to play god. Another way of putting this is to say that, faith is believing in God in such a way that you can feel, see and touch Him. (1 John 1:1) When you have this "substance" in your hand you know that God will do everything you ask of Him, but again, in His way. Oral Roberts, the great healing evangelist of the last century, recognized that the majority of the people he had prayed for in his great healing crusades were in fact not healed. Of course a small percentage were but he was honest and concerned enough that he embarked upon the building of a hospital.
The challenge of faith
Do you have faith? That is, are you able to entrust your self to Him so that He can do anything He likes with your life; even heal you by taking you home? This is precisely where we come apart because we strongly desire to determine the outcome because we are, rightly so, consumed with compassion, sorrow and yes self-interest. We want our friends and loved ones to continue with us and so we construct prayers that are more a commentary on these desires than real faith. I have seen so many people, even dear friends of mine, go through this "spiritual obstacle course" and then when they died and were not healed, as was so fervently affirmed, discouragement, confusion and even anger at God set in. On the other hand, as a Pentecostal preacher, I have indeed seen many people instantly healed and set free from their terminal illness. In this I have greatly rejoiced but it was faith in God and not in the outcome that did this and also Jesus gives us the gift of faith by the Holy Spirit whereby we just know for certain that if someone is prayed for they will be instantly healed (1 Corinthians 12:8, Acts 14:8-9). This is all true and we must affirm it within the boundaries that our faith is in God and He has the right to do with His children as He pleases.
The foundations of faith
We need to live our lives in such a way that God can help us in our time of need. We must be true to our verbal commitments to Christ and we must live holy lives. We have handed our lives fully over to Him as Lord and Savior and so we must live in harmony with this act of dedication. Failure in this regard means that God Himself may well strike us down with physical weakness, sickness and even death. No amount of so-called believing faith will reverse this except real and sincere repentance. Paul warns of this when giving instructions about taking the communion elements. We must take these "judging ourselves" meaning that we must consider our commitments to Christ based on what He did for us on the cross. To "eat of the bread and drink of the cup in an unworthy manner" will invite God's correction and judgment (1 Corinthians 11:29-30).
Conclusion
There is a real need for biblical counseling and care when dealing with people who are facing real and serious life threatening medical challenges. We must tell them the truth and thereby affirm that God will answer their prayers and those of the ones who stand with them. Indeed He will heal them but in three possible ways: by reversing the condition instantly, by the use of medical attention and treatment and by taking them home. In every case they will be healed because they entrust themselves to Him. And, in every case, He will deposit His supernatural power, strength, blessing and peace upon them.
Sometimes the end of this struggle can appear to be so definite and hopeless especially if the person we were believing God to heal died. However an understanding of the word "end" in the Bible fills us with real comfort and hope. In the Greek this word "TELOS" does not mean the end of the matter as of something definite and conclusive but rather it means the conclusion of a set of circumstances that actually pave the way for the "new" to come. An example of this is that the end of the age is not simply to bring the present age to a close, but to allow a new age to emerge wherein peace and righteousness will prevail and dwell. Those who come to an end in this world are passing into something glorious! We do indeed mourn the loss of their presence but we also rejoice in their triumph in Christ.
May we forever hold this in our hearts!
Malcolm Hedding
2018 devotionals
2018Devotional
Blog
Weekly Devotional