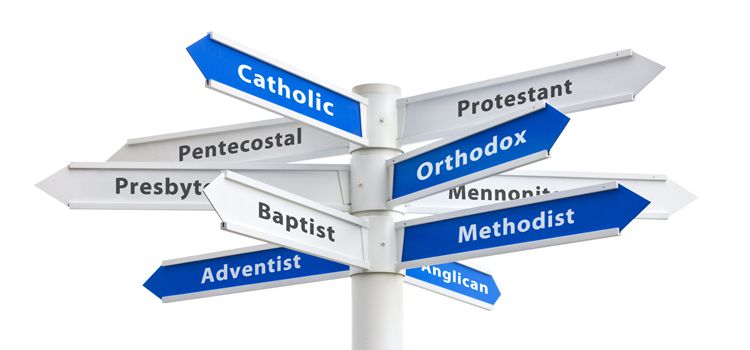 Denominational Leaders – Week 35 / August 22nd
"…besides the other things, what comes upon me daily:  my deep concern for all the churches." 2 Corinthians 11:28
"The mystery of the seven stars which you saw in My right hand, and the seven golden lampstands: The seven stars are the messengers of the seven churches, and the seven lampstands which you saw are the seven churches." Revelation 1:20
"For this reason I left you in Crete, that you should set in order the things that are la King, and appoint elders in every city as I commanded you." Titus 1:5
While attending various meetings of late, including prayer meetings, I have noted the disdain that people have for denominations. Disparaging comments about these are made as if it were spiritual and a badge of maturity to put denominations and their leaders down. Sadly still, others stand by and let this happen. Now of course I realize that exclusivism is dangerous and unacceptable but, to be honest, I mix with and preach for a lot of denominational leaders all over the world and I have rarely found any of them caught in the sin of exclusivism and pride. On the contrary I have found them to be open minded, kingdom orientated and determined to harness their strengths as a movement in order to do more for the expansion of the Kingdom of God. Truly those who put them down are saying more about themselves.
Who can deny the amazing impact that denominations have had on the world. Multiple thousands of people and in some cases millions of men, women and children have been and are being swept into the Kingdom of God. Just last year I visited the Apostolic Faith Mission denomination of Namibia only to find out that in just twelve months they had reached 219,000 people for Christ and this in a country of only two million people. They had successfully harnessed their churches to " assault" the nation for Jesus. An independent non-denominational church would never be able to do this. Now I could go on and on talking about the multiple hundreds of thousands of people that denominations are winning to Christ everywhere but the point is made. We must stop being sectarian and carnal and appreciate all the various manifestations of the true church in the world. We grieve the Holy Spirit when we denigrate His work in the world and we should desist from doing so.
Now I am certainly not endorsing denominations that depart from the truth of God's word, embrace liberal and liberation theology and deny the place that Israel holds in God's plan of world redemption. These certainly exist as do independent churches that propagate these errors as well. I am simply drawing attention to the fact that we must honour God's work everywhere and those who pursue it no matter the banner flying over them.
It is worth remembering that the denominate expression of the Church in the book of Acts is the denominational form of it! Paul went out from Antioch to plant churches and these he strung together under the care of an Apostolic Band from which he gave correction, ministry and care to the churches. They were, in a good way, his churches and consequently they had a common way of working and thinking and thousands of people were won for Christ. In fact, it is because of the denominational work of Paul that we have the many wonderful Epistles of the New Testament. So, we should be a little more humble and careful when talking about denominations, The Wesley brothers built and left us a denomination that in its hay day swept millions into the Kingdom of Heaven. One can have and should have concerns about Methodism today but one cannot deny that for two centuries and more it was God's engine to save souls on a scale hardly seen before. Powerful denominations came out of the Azusa Street revival and some of these are still winning millions to Christ all over the world.
We must pray for denominational leaders and bless them. Jesus wrote to the seven churches of Asia and viewed them as being strung together by the "messengers of the churches." These "messengers" are gift ministries or preachers that hold them together and bring Christ's message to them. The whole denomination was His concern and still is!
Malcolm Hedding
2016Devotional
2016Devotional
Blog