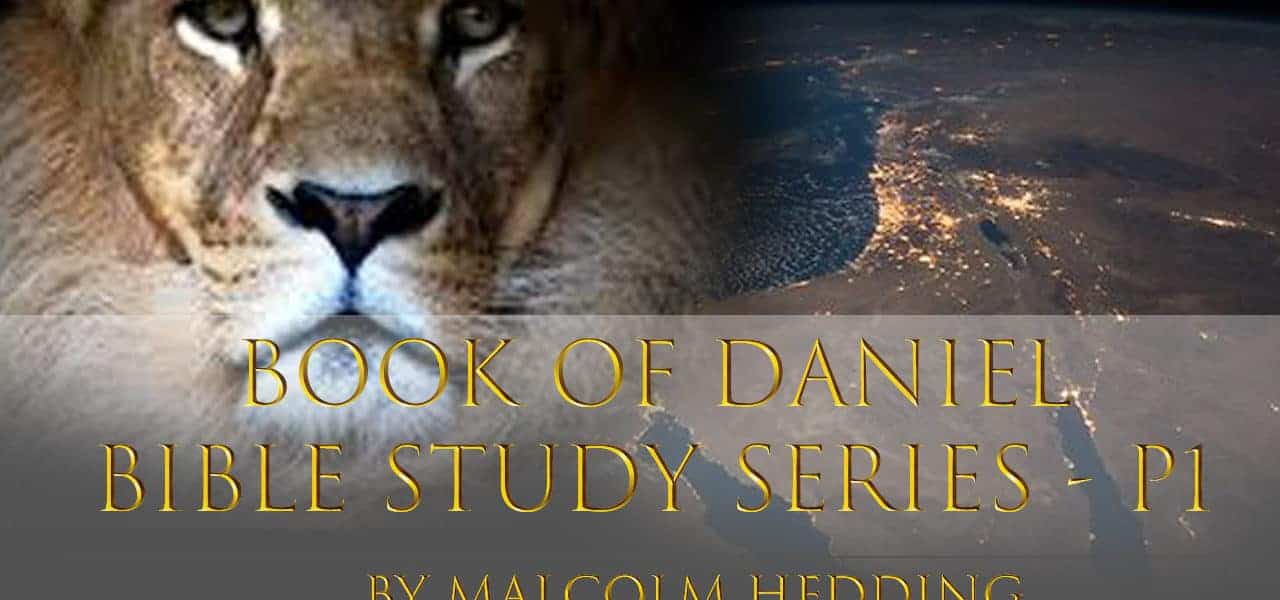 Book of Daniel Bible Study Series
"As for these young men, God gave them know,edge and skill in all
literature and wisdom; and Daniel had understanding in all visions
and dreams."
Daniel 1:17
Daniel was a deportee to Babylon in the first wave of the exile that culminated in 586 BC. So, being a dedicated servant of the God of Israel he was the recipient of remarkable revelations from heaven that still await complete fulfillment in our day. He also stood strongly against persecution and resistance that threatened his very existence and that of his friends. He teaches us that serving Christ in a godless world will definitely put one to the test and at the same time prove the faithfulness of God. So, like no other prophet, Daniel pinpoints events that will overtake our world in the near future and which will herald the arrival, and manifestation of, the visible kingdom of God.
Daniel's proving
The book opens with a moving account of how he remained faithful to God in a climate of intense pressure to conform to a culture that in every respect was ruthless and resistant to true faith in God. It is to be noted that these were young men who God used in such a mighty and wonderful manner ( 1 Timothy 4:12). He and his friends were determined to stand strong and honor God by not violating His laws, which governed what could be eaten and what could not. We learn that:
A. That God tests His people-Like He did Abraham, so that, as we say, He can "hang His hat"(sanctifying purpose) on their lives. They must be proved, as we must, to demonstrate that we have rock hard godly characters. Here Daniel and his friends were put to the test over what could be considered a trivial thing but they knew that were called to be faithful in the small things as well as the big. In fact, if they could not be faithful in the small things, then God knew that He could never trust them with the big things (Luke 16:10).
B. That God tests His people-So that He can entrust them with special assignments. We need to remember that Peter the Apostle who, by Jesus' permission, was sifted by the Devil in order that in the future he could open the door for the Gospel of Jesus to reach the Gentile world. God had a special assignment in mind for Daniel in that he was destined to become the Prime Minister of two great gentile empires; Babylon and Media-Persia. God has an assignment for each one of us but we have to demonstrate that we are steadfast in our faith in Him.
C. That God tests His people- In order to impact the ungodly with His love and purpose for their lives. God loves a wicked world and made provision for it in the death of His Son on the cross. Very often the ungodly are impacted with the love of God when they see how Christians act under pressure. Daniel made a huge impact upon Nebuchadnezzar, the king of Babylon, in that he saw His reality surging through Daniel's life. Richard Wurmbrand did the same as he took on his communist jailers and persecutors and so did the seven martyrs who died at the hands of ISIS. One of them was a Muslim but when he saw how bravely the Christians were ready to die for their faith in Jesus he joined them.
Daniel's statue
"Daniel answered and said: 'Blessed be the name of God
forever and ever, for wisdom and might are His, and He
changes times and seasons, He removes kings and raises
up kings; He gives wisdom to the wise and knowledge to
those who have understanding."
Daniel 2:20-21
"But there is a God in heaven who reveals secrets………….. "
Daniel 2:28
Nebuchadnezzar had a dream that turned out to be an enigma to his wise men and soothsayers because, on threat of taking their lives, he demanded that they interpret it, even though he refused to tell them what it was. Daniel's response was firstly driven by his compassion for them in that he knew that they would all be put to death and secondly, he knew that God was real and would help him to understand the dream and thereby enable him to deliver himself and the palace advisors. Also, it is important to note that God gives wisdom and knowledge to those who have already applied themselves to the study of God's word. Heaven rewards diligence! ( 2 Timothy 2:15). This tells us that:
1. The people of God should make a difference in the world. They ought to be salt and light that ultimately enables God to penetrate the darkness and bring the light of His salvation to people's lives. Nebuchadnezzar was literally overcome when Daniel unravelled the contents of his dream and he acknowledged that the Hebrew God, that he thought he had defeated when he destroyed Jerusalem, was the only true God and was very much alive! (Daniel 2:47)
2. The people of God have supernatural help at their disposal. Without being told the contents of the dream, Daniel is appraised of it by heaven itself. The dream is of a magnificent statue of a man; his head being gold, his upper body being silver, his thigh and belly are bronze, his legs are iron and the feet are of iron and clay. Eventually a huge stone, not cut by human hands, falls upon the feet of the statue and the whole things crumbles and is blown away by the wind. The gifts of the Holy Spirit are the "tools" that God has given us in order to accomplish His work in the world. We must learn to use them! (1 Corinthians 12:7-11).
3. The people of God should know the days in which they are living. Jesus said watch and pray as this will enable us discern the signs of the times and not fall into spiritual slumber. Daniel's dream was of five great Gentile empires that would emerge to govern all of history and the affairs of men. They would be, the Babylonian Empire, the Media-Persian Empire, the Grecian Empire, the Roman Empire and a multicultural Global Empire that will divide the whole world up into ten regions. All of these would oppose Israel and finally crumble when the huge stone falls upon the ten region Empire; demonstrating that all of these Empires are really one driven by the same demonic entity. Israel is the "vehicle of world redemption" and therefore she must chiefly be overcome and literally exterminated (Revelation 12:1-4). The stone, not cut with human hands, is the Kingdom of God and all those who belong to it including the Church of the Living God. We win in the end as, the kingdoms of the world will be given to us to govern with Christ (Revelation 11:15).
All these Empires have come and gone and only the last one is now emerging before our eyes. People of influence everywhere are speaking of a New World Order, a new global financial system and the need for a new world religion. The United Nations, in co-operation with so called global elites, like the Club of Rome and others, have drawn up a plan to impose global government on the world that is to be divided up into ten regions. This New World Order will be in conflict with the biblical revelation, with Israel and thus with God's people, just as it was with Daniel. We will have to stand strong against it and even be willing, as Daniel was, to lay down our lives (Revelation 12:11). God, by Jesus, Christ comes to the aid of those who do not give way and continue to honor His word. Truth will be the battle ground of the coming days! (2 Thessalonians 2:11-12) The book of Revelation focuses at length on this final ten nation Empire (Revelation 17:1-3).
4. The people of God must know that no matter what happens God is control of the affairs of men and it is he that raises up leaders and puts them down. The shakings around us are of His doing and thus, since we are His people, we have nothing to fear. There is still a God in heaven (Daniel 2:28)!
Malcolm Hedding
2020 Devotionals
Blog