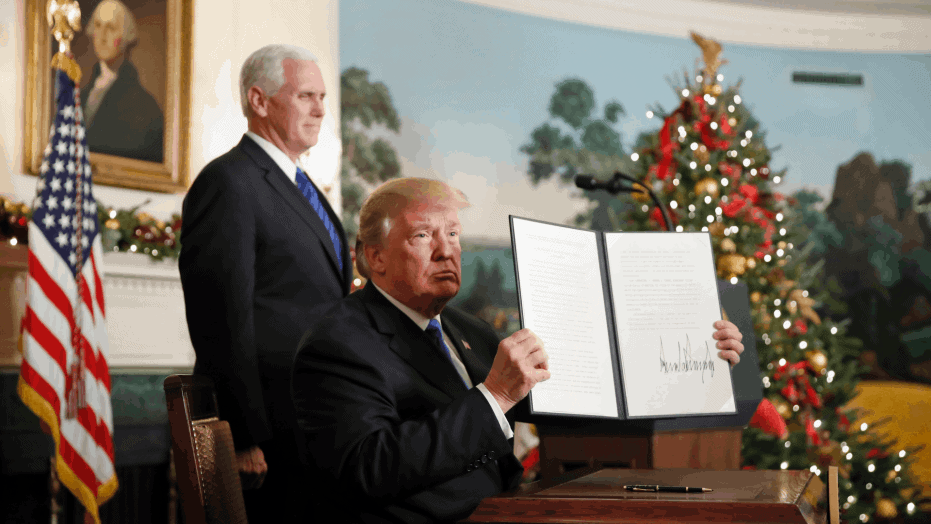 Statement – President Trump Declares Jerusalem is Israel's Capitol
The Time to Favor Zion
"But You, O Lord, shall endure forever, and the
remembrance of Your name to all generations,
You will arise and have mercy on Zion; for the
time to favor her, yes the set time, has come."
Psalm 102: 12-13
"And they will fall by the edge of the sword, and
be led away captive into all nations. And
Jerusalem will be trampled by Gentiles until the
times of the Gentiles are fulfilled."
Luke 21:24
For centuries well known Christian, preachers, leaders and teachers have written of the biblical truth that calls for a restoration of the Jewish people to the land of their forefathers and to the city of Jerusalem at the end of the age. The scriptures call this, "The time to favor Zion." This has not happened in a corner and is not a political issue but a biblical one with political consequences; but this has always been the case when the Jews have returned to Zion. There have been those who have rejoiced in Israel's restoration and those who have aggressively resisted it. Nehemiah knew this dynamic well and sadly, nothing has changed. This modern day return of the Jews to Canaan and to their ancient capital Jerusalem is the out flowing of God's eternal promises made to the Jewish people through the covenant that God made with Abraham and their Fathers 4000 years ago. This covenant, much to the consternation of many, has never been annulled or adjusted a fact clearly testified to by the New Testament scriptures.
Israel's unique place in history is redemptive and for the blessing of the whole world. She is the vehicle of world redemption and as such has given to the world a revelation of God and His word that is amazing. This revelation has made nations great and has brought to their shores the saving knowledge of a Jewish Messiah, Jesus of Nazareth (John 4:22).
Today an American President, Donald Trump, had the courage to embrace what scripture embraces when the United States of America, by his declaration, affirmed that Jerusalem is without a doubt the undivided, eternal capital of the nation of Israel. No other nation can lay claim to Zion in this way and no other nation has ever had Jerusalem as it capital. Indeed Israel's capital city was first declared 3000 years ago when King David reigned in Jerusalem. Donald Trump's declaration is brave, biblical and honest, and the God of the Bible will bless him for it.
One hundred years ago, almost to the day, as the Jews were lighting their Hanukah candles a fervent Christian General called Allenby liberated Jerusalem. Just a few weeks before, on the 7th of November, his nation had issued the Balfour Declaration that paved the way for the establishment of the State of Israel. Jerusalem's liberation was certainly a sign that an amazing cycle of events would now follow, and they did. The time to favor Zion had come!
Just fifty years later, in June of 1967, the Israel Defense Force finally liberated biblical Jerusalem and brought it under Israel's sovereignty, thus uniting the city and opening it up to all peoples of faith. On the 6th December 2017, after another fifty years, Jerusalem has finally been liberated diplomatically. That is, an American President has had the courage to keep his word and honor the truth. This is astonishing, and while many will weep and gnash their teeth today and see nothing remarkable in these events, heaven will rejoice and so will God's people everywhere because He has kept His word to Abraham and is about to bring forth redemption in a most astonishing way. After all His Son said, "When you see these things look up because your redemption draws near" (Luke 21:28).
Today, dear friends God's "set time" has been fulfilled!
Malcolm Hedding
Blog