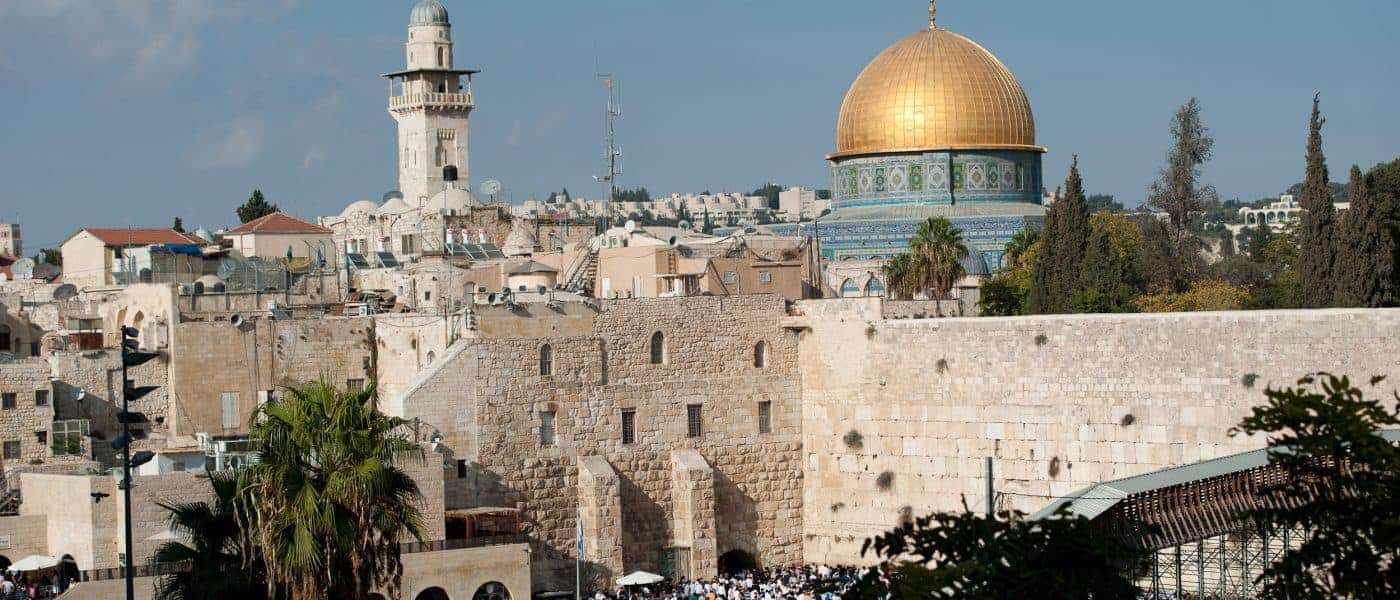 Jerusalem – Week 25 / June 15th
---
 "Pray for the peace of Jerusalem: May they prosper who Love you."
Palm 122:6
Jerusalem has a four thousand year history going all the way back to Abraham and it is the most contested city on earth even though it has no natural resources, partially straddles a desert and, when the Jews are not in control of it, has descended into a forgotten broken down village. So, the question is; why is it so important to the world and the Jewish people or; wherein lies its significance? Consider the following:
Jerusalem the sacred city.
God Himself is zealous for it and this means that He is supportive of its Jewish identity and character.
"I am zealous for Jerusalem and for Zion with great zeal. I am exceedingly angry with the nations at ease; for I was a little angry, and they helped-but with evil intent" (Zechariah 1:14-15)
The city is sacred to God because it is the platform chiefly from which His redemptive purpose for the world has been accomplished. It is in this city that Jesus died for the world and it is to this city that Jesus will return. This purpose is intertwined with the historical calling and journey of the Jewish people. God is not a respecter of persons and yet He, when a Jewish Jerusalem is under threat, will be aroused in His anger as a man awakened by bad news from a sleep!
"Sing and rejoice, O daughter of Zion! For behold, I am coming and I will dwell in your midst, "says the Lord. Many nations shall be joined to the Lord in that day, and they shall become My people. And I will dwell in your midst. Then you will know that the Lord has sent me to you. And the Lord will take possession of Judah as His inheritance in the Holy Land, and will again choose Jerusalem. Be silent, all flesh, before the Lord, for He is aroused from His holy habitation." (Zechariah 2:10-13)
Jerusalem a glorious city
Just as God in Christ imputes perfection/righteousness to us so He sees Jerusalem as something glorious and perfect that, if we have the spiritual eyes to see, will speak to us of God Himself!
"Walk about Zion, and go all around her. Count all he towers; mark well her bulwarks; consider her palaces; that you mat tell it to the generation following. For this is God, our God forever and ever; He will be our guide even to death." (Psalm 48:12-14)
And,
"For the Lord has chosen Zion; He has desired it for His dwelling place: This is my resting place forever; here I will dwell, for I have desired it." (Psalm 132:13-14)
And,
"The Mighty One, God the Lord, has spoken and called the earth from the rising of the sun to its going down. Out of Zion, the perfection of beauty, God will shine forth." (Psalm 50:1-2)
Jerusalem a contested city
The hatred of the nations against a Jewish Jerusalem is an attempt to vanquish God from their consciences and a strategy by the Devil to resist and frustrate God's plan of global redemption. The Bible warns that in the end time, when the Jews have been restored to the city (Luke 21:24), an international attempt will be made to disinvest the Jews of the city. We are living in this time and our understanding of the significance of the city to God and to the Jewish people constitutes a test as to where our hearts are on this issue. Are we with God or with the nations and the devil on this issue?
"Behold I will make Jerusalem a cup of drunkenness to all the surrounding peoples, when they lay siege against Judah and Jerusalem. And it shall happen in that day that I will make Jerusalem a very heavy stone for all peoples; all who would heave it away will surely be cut in pieces, though all nations of the earth will be gathered against it." (Zechariah 12:2-3)
The message here is clear: Nations that attempt to wrest control of the city from the Jewish people will rupture themselves and will consequently be weakened and judged. As Lance Lambert always said, "Their heavy lifting days will come to an end!" History is strewn with the debris of great nations that attempted to remove Jerusalem from Jewish control. As the people of God we must stand firm on the biblical notion that Jerusalem is the undivided eternal capital of the Jewish people.
Jerusalem a triumphant city
The battle for Jerusalem and thus the consummation of God's redemptive plan for all peoples has begun. Jesus is returning triumphantly to a Jewish Jerusalem because it is from this city that God's salvation plan for the world has arisen. It will succeed because God will find us faithful and thus we are called to pray for the peace of Jerusalem (Psalm 122:6) (Isaiah 62:6-7). This peace is nothing short of salvation peace which God has promised to Jerusalem. Our commitment to Jerusalem is ultimately proof of our commitment to God. This is not about the Jewish people; no it's about our understanding of God's purpose for the world through them in Jesus.
In Psalm two verses one to nine God declares His plan and purpose:
"Why do the nations rage, and the people plot a vain thing?
                                                The kings of the earth set themselves, and the rulers take
                                                Counsel together, against the Lord and against His Anointed
                                                Saying, "Let us break Their bonds in pieces and cast Their cords
                                                from us."
                                                "He who sits in the heavens shall laugh; the Lord shall hold them
                                                in derision. Then He shall speak to them in His wrath, and
                                                distress them in His deep displeasure: Yet I have set My King on
                                                My holy hill of Zion."
                                                "I will declare the decree: The Lord has said to Me, You are My
                                                Son, today I have begotten You. Ask of Me, and I will give You
                                                The nations for Your inheritance, and the ends of the earth for
                                                Your possession. You shall break them with a rod of iron; You
shall dash them to pieces like a potter's vessel."
Jerusalem the eternal city
The day is shortly and surely coming when Jerusalem will be immortalized in that it will merge with eternity in the form of the New Jerusalem that will come down out of Heaven. The heavenly home of the redeemed forever and ever will be named after the earthly city that gave birth to the plan and purpose of God mediated to the world by the Jewish people. Therefore its foundations will be named after the twelve Jewish Apostles of the Lamb and its twelve gates will be named after the twelve tribes of Israel. Those who dwell there will worship a Jewish Messiah and walk in the light of His eternal glory. (Revelation 21:19-21; 22:1-5)
This is the dignity and tribute that God Himself gives to the present city of Jerusalem. Should we not do the same? No wonder David wrote:
"If I forget you, O Jerusalem, let my right hand forget its skill."
                                                                                       Psalm 137:5
Malcolm Hedding
©Malcolm Hedding Ministries
2015Devotional
Blog