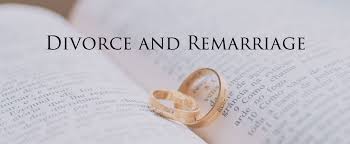 Divorce and Remarriage
There is no doubt that divorce for any and every reason is a plague in the Church and more important still it robs the Church of God's presence and blessing. To be honest, I fear that, apart from the intervention of God, the "horse has bolted" and not much will be done to rectify the matter since many preachers and respected leaders are themselves guilty of license in this area. This matter must be urgently addressed by the Church, for no other reason than to attract the blessing of God to our communities. Nothing is more destructive to society than the break- up of Christian homes. This must be stopped, families must be secured with biblical values but where there is divorce this should be governed by scripture; all the time avoiding very hard-line or 'anything goes positions'. Above all we must call for restoration and clothe ourselves with compassion. It is with this in mind that I write this paper.
"For the Lord God of Israel says that He hates divorce
                                                 for it covers one's garment with violence," says the
                                                 Lord of hosts…."
                                                                                                Malachi 2:16
                                                "Furthermore it has been said, "Whoever divorces his
                                                 wife, let him give her a certificate of divorce." But I say
                                                 to you whoever divorces his wife for any reason except
                                                 sexual immorality causes her to commit adultery; and
                                                 whoever marries a woman who is divorced commits
                                                 adultery."
                                                                                                Matthew 5:31-32
                                                "But if the unbeliever departs, let him depart; a brother or
                                                 sister is not under bondage in such cases. But God has
                                                 called us to peace."
                                                                                                1Corinthians 7:15
The Historical View
While early Church leaders had differing views on the matter they generally moved between two positions on divorce and remarriage. That is, divorce and no remarriage as in Tertullian…or…divorce in the case of "uncleanness" or adultery and remarriage as in Origen's view. He stated that God's divorce of Israel for spiritual adultery and remarriage to the Church is proof of this (Jeremiah 3:8)! Thomas Aquinas (1226-1274) put in place the Catholic Church's position on divorce. That of no divorce at all but divorce could be had if the aggrieved party requested an act of nullification from the Pope called, "Divorce a Vinculum Matrimonii." As you know, Henry the eighth requested this, didn't get it and consequently broke with the Catholic Church. Strangely, God was in this so what does this say to us?
This view is called the "kinship View" as it views marriage as a sacrament by which the parties are made one and thus in dissolvable (Genesis 2:24). They are one both spiritually and physically. The other Orthodox Churches generally followed this view and within their fraternity it is still embraced today though many of their adherents have abandoned it because of the infiltration of secularism.
The Protestant View
This is where it really becomes intriguing because the Protestant Leaders departed significantly from Rome on this matter as they accused Rome of propagating their view to lure people into celibacy in order to fill the dwindling ranks of their monastic orders. So, the Protestant View, held by great leaders like Martin Luther, John Calvin, Erasmus and Martin Bucer, was that divorce could take place for fornication (which in the original language (pornea) means adultery, homosexuality, bestiality and sexual perversion of any type) and that the offended or innocent party could remarry but only in the Lord. They also viewed what is called "Paul's Exception" (1Corinthians 7: 14-15) as referring only to abandonment because of one's faith in Christ and thus they also permitted remarriage. The word used by Paul, in terms of not being in bondage, has roots indicating that one is not in "legal enslavement" and implies remarriage, but only again in the Lord.
As a matter of interest Luther and Calvin spoke of marriage as a civil institution thus over-reacting to the Catholic position of a sacramental institution. This Protestant view is also called the "Majority View" but there are evangelicals, who subscribe to what they call the "Minority View." That is, the minority view in the evangelical world which holds that divorce for adultery is permissible but not remarriage. The same rule applies to "Paul's exception", if applied.
Modern Day Evangelicals
In this world scholars like William Heth, Professor of New Testament and Greek at Taylor University, are the most influential. Heth held the minority view for years but now holds the majority view and writes:
"The majority of evangelicals believe that Jesus permits remarriage after divorce for marital unfaithfulness (Matthew 5:32; Matthew 19:9) and that Paul sanctions remarriage when Christian spouses are abandoned by unbelieving mates. (1Corinthians 7:14-15)"
People like Heth believe that "sexual union is the indispensable means" for the consummation of marriage both in the Old Testament and the New. This union when violated by adultery is destroyed and this is why Jesus permitted divorce, and in his view, remarriage. As to the latter he writes, "Jesus cannot be construed as teaching an "exceptionless absolute" based on Mark alone because both Matthew and Paul qualify Jesus' prohibition of marriage after divorce." Moreover, in terms of the full biblical record valid divorces always included the right to remarry but only in the Lord. So then it can be deducted that valid divorces are God's permissive will for some innocent victims of divorce. It must be stressed, in my view, that Jesus' words in Matthew 19:9 clearly justify divorce for immorality and permit remarriage, only in the Lord. Having said this it seems to me that it is inconsistent with the heart of God, as revealed in scripture, that the innocent partner in a broken marriage not only be subjected to the trauma and distress of such a break up but also be barred from the joy and comfort that comes to one in a "new" marriage.
Adultery actually must be persistent and everything must be done to seek restoration rather than divorce. It is precisely here that the modern day Church has lost its way. Divorce is permitted for every reason under the sun and the consequence is that many lives, mostly children, are brought to ruin. God hates it! In Jesus' day, as the records prove, a man could divorce his wife for burning the food; and they did! Many then believe that Jesus spoke strongly about this to rectify the chaos and place the emphasis in the right place just as He did when He said that one has to hate one's family if you wanted to follow Him (Luke 14:26). We must then embrace a very high view of marriage since it is not simply the union between a man and a woman but also a reflection of the unity and love that exists between Christ and His Church (Ephesians 5:22-33). Our emphasis should not be on forgiveness but faithfulness and the boundaries of marriage, divorce and remarriage have to be significantly narrowed.
For me then both sexual immorality and abandonment violate the fundamental biblical components of marriage and, if persisted in, leave the innocent party without any options at reconciliation. They are consequently not in legal bondage and can remarry but only in the Lord. These "two violations" have to be carefully and thoroughly proved and serious efforts at restoration should be our first and paramount concern. The evangelical theologian Hays writes:
"The Church must recognize and teach that marriage is grounded not in feelings of love but in the practice of love. Nor is the marriage bond contingent upon self-gratification or personal fulfillment. The church has swallowed a great quantity of pop psychology that has no foundation in the biblical depiction of marriage…….When marital union is rightly understood as a covenant, the question of divorce assumes a very different aspect. Those who have made promises to God should trust God for grace sufficient to keep those promises, and they should expect the community of faith to help them to keep faith, by supporting them and holding them accountable." Blomberg adds:
"Married people should always be seeking ways to improve and enhance relations with spouses rather than wondering how they can get out of commitments they have made." This is so very true!
Conclusions
I have now, chiefly because of my research on this matter, come to the "Majority View." I have to recognize that this view was held by great spiritual leaders that we admire and quote in our sermons all the time and yet I admit that there are still issues to be resolved. However, I believe that people holding my view have to be stricter and stronger in asserting the biblical position on this matter and I believe that people holding to the "Minority View" need to be a little more caring for the injured and innocent party since great preachers have also held this position. Both positions have been long accepted views within the evangelical Church. This is like grappling with God's sovereignty and man's free will. Once we hold a strong position either way we tend to be unbalanced. I am guilty of this as we all are from time to time!
Malcolm Hedding.
2018 devotionals
2018Devotional
Weekly Devotional