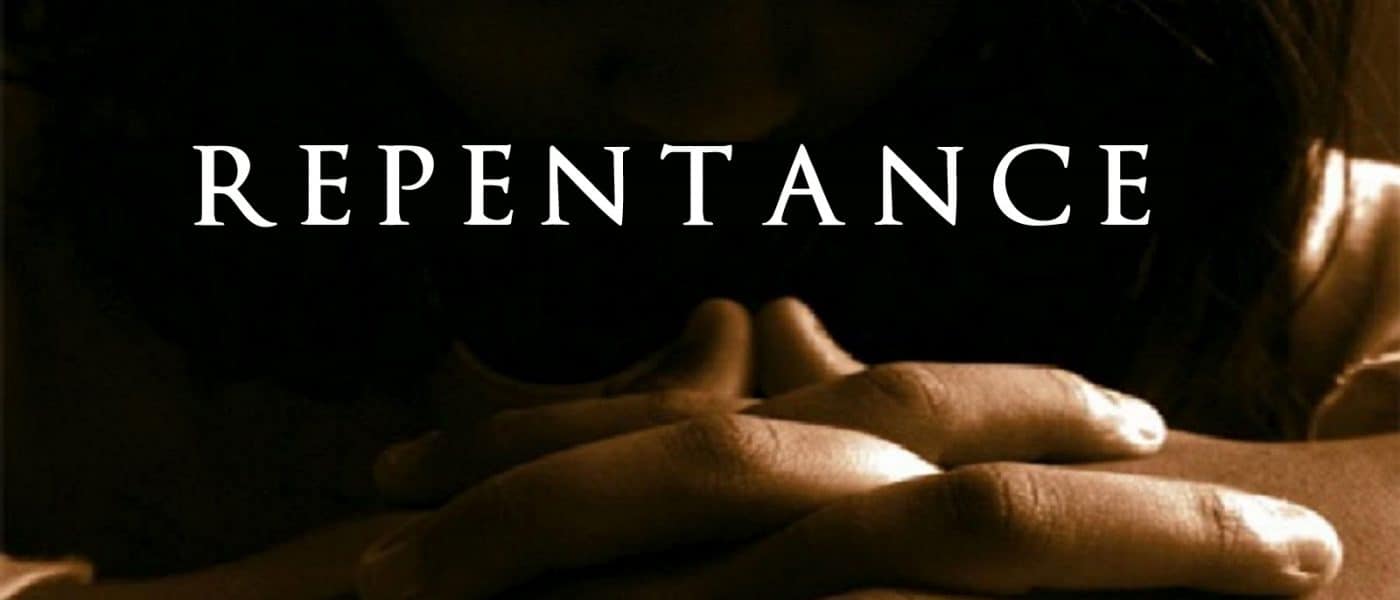 The Message of Repentance – Week 17 / April 25
"Blessed is the Lord God of Israel. For He has visited
                                                 and redeemed His people, and has raised up a horn
                                                 of salvation for us in the house of His servant David."
                                                                                                                Luke 1:68-69
                                                "Truly, these times of ignorance God overlooked, but
                                                 now commands all men everywhere to repent."
                                                                                                                Acts 17:30
                                                "Then He said to them, "Thus it is written, and thus
                                                 it was necessary for the Christ to suffer and to rise
                                                 again from the dead the third day, and that repent-
                                                 ance and remission of sins should be preached in
                                                 His name to all nations, beginning at Jerusalem."
                                                                                                                Luke 24:46-47
As days of violence, anarchy, wars and natural disasters cover the earth we can be tempted to give way to despair and therefore wonder where it will all end. Add to this the degradation of the environment and the picture only worsens. Our world is in trouble, we are in trouble!
The root of this trouble lies in humankind's nature. To put it simply; there is something wrong with the human heart because it has rebelled against God and consequently, having been cut off from God, is predisposed toward evil. The Prophet Jeremiah put it this way; "The heart of man is desperately sick and wicked above all things" (Jeremiah 17: 19). David, the great Psalmist of Israel, declared that, "There is none good no not one," (Psalm 14:1-3) and Paul writing in his Roman epistle said, "For all have sinned and have fallen short of the glory of God" (Romans 3:23). He also asserted that the human heart has become a enemy of God and is therefore not neutral but antagonistic to the things of God (Romans 5:10). These notions of humankind's sinfulness are of course rejected by our secular world and sadly even by some in the Christian church. For "these worlds" humankind is essentially good and all its problems are largely caused by one's position in life or by circumstances outside of one's control. We are all victims and not responsible for our behavior and misery! The Bible affirms that we are indeed the sinful troublemakers that it makes us out to be! Addressing the human condition Dr. Peter Watt writes:
William Temple, Archbishop of Canterbury during the Second World War
wrote, "There cannot be a God of love', men say, 'because if there was,
and He looked upon the world, His heart would break.' The Church points
to the cross and says, 'It did break.' It's God who made the world men say.
It's He who should bear the load.' The church points to the cross and says,
'He did bear it."
For those then who love God and who have consequently cast themselves upon His grace and redeeming love in Christ, there is a bright, glorious and eternal future (Psalm 1:1-3). The key then to rectifying our "broken and diseased hearts" is, and always will be, repentance. This means owning up to one's personal wickedness and repenting at the cross for all that one has done and has become. Again, this notion is generally rejected by our arrogant world because of pride. The fallen heart does not easily come to terms with its awful condition but when it repents and embraces Jesus as Lord it enters into God's only solution for it. This solution is grounded in that which Jesus did for us on the cross. For this reason God commands all men everywhere to repent (Acts 17:30) and Jesus began and concluded His ministry with a call to repentance (Mark 1:15; Luke 24:46-47).
For those who have the courage to embrace God's gift of repentance and atoning love in Christ there is laid up for them a pathway of hope, joy and eternal life. This is the unfailing promise of God and this is the only way to travel through a world fast falling apart. We have heart trouble and only the God of the Bible can permanently rectify this condition. In fact His love for the world is so great that His word states that "He is not willing that any should perish but that all should come to repentance" (2Peter 3:9).
As we continue to reflect on the great events surrounding Jesus' death, burial and resurrection we are reminded of God's grace and love and of His willingness to redeem lives that are sinful, broken and even given over to the Devil. This redeeming love was first brought forth and seen in Israel and then it has gone to the four corners of our world (John 1:6-13). It seeks for and redeems hearts that are humble enough to submit to it and it constantly reminds the world that Jesus came into the world not to condemn it but to save it (John 3:17). This He did by bearing in His own body the awful consequences of the world's rebellion against God; His sufferings were substitutionary or in our place but He rose from the dead triumphant enabling us all to begin again in fellowship and friendship with God and free from our sins and fallen natures. This is good news!
May you experience the joy, peace and blessing of God in this special season of contemplation.
Malcolm Hedding
2017Devotional
2017Devotional