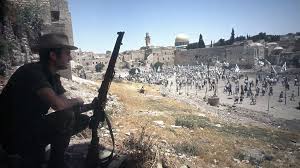 The Battle of Jerusalem – Week 3 / January 20th
Jerusalem, by its very name, is the city of peace precisely because the city is an imperfect replica of a heavenly one; which scripture terms as, "The Jerusalem Above" (Galatians 4:26). This heavenly city will be the eternal home of the redeemed of all ages and but the present earthly Jerusalem is the "gateway" by the cross to that perfect heavenly and eternal abode. Singular and crucial to this story of epic proportions are the Jewish people who have been designated by God to be the custodians of these treasured truths! (Romans 3:1-2)
The Eternal Purpose of God

This may be defined as: That divine initiative to gather a holy family from all the peoples of the earth by which the heart of God will be rejoiced and the purpose of God through the ages will be fulfilled. This truth is reflected in Paul's second letter to Timothy when he writes:
"Therefore do not be ashamed of the testimony of our
                         Lord, nor of me His prisoner, but share with me in the
                         sufferings for the gospel according to the power of God,
                         Who has saved us and called us with a holy calling, not
                         according to our works, but according to his own
                         purpose and grace, which was given to us in Christ Jesus
                         before time began." 2 Timothy 1:8-9
To achieve this divine initiative the God of the bible made a remarkable choice.
The Amazing Choice of God
Abraham (Genesis 12:1-3). God called this unique gentile into a special relationship with Himself. This would be for the saving of the world.
Abraham, Isaac and Jacob (Acts 3:13). The patriarchal structure of Israel reflects the eternal purpose of God. That is, He is a God of promise or covenant (Braham), a God of atonement or sacrifice (Isaac) and a God of change or transformation (Jacob).
Abraham's Covenant that is eternal, unchanging and guaranteed by the immutability of God Himself. (Hebrews 6:13-18). This means that in all aspects, including that of the land of Canaan nothing will ever change. God Himself declares that He is the Lord and He does not change. Numbers twenty-three and verse nineteen states, "God is not a man, that He should lie…"
Abraham's children; the vehicle of world redemption. (John 4:22; Romans 3:1-2; Romans 9:1-5) Everything we have as Christians is Jewish, even our Messiah.
The grave warning of God
 "Behold, the whirlwind of the Lord goes forth with
  fury, a continuing whirlwind; it will fall violently
  on the head of the wicked. The fierce anger of the
  Lord will not return until He has done it, and until
  He has performed the intents of His heart. In the
  latter days you will consider it." Jeremiah 30:23-24
The construction of the Bible is such that it begins with an emphasis on the serious consequences of sin and rebellion against God. The heart of man has become "desperately sick and wicked above all things" (Jeremiah 17:9) and deserves nothing less than the thundering of God's anger and wrath (Hebrews 12:18-21). We downplay our depravity to our spiritual loss! (Hebrews 10:26-31) This is especially true because God has determined in Christ to reach out to us and save us from our sins. He did this through the Jewish people and their eternal city Jerusalem! In short, by Jesus' death in Jerusalem we are "saved from the wrath to come" (1 Thessalonians 1:9-10).
Moreover, since Israel has been the means by which God has brought His love and gift of eternal life to us our dealings with her and with her eternal city will determine whether we are blessed or cursed (Genesis 12:3).  This is no small matter and we "laugh it off" to our peril. Balaam, who set out to curse Israel, was restrained by the Holy Spirit and instead declared, "Blessed is he who blesses you, and cursed is he who curses you" (Numbers 24: 9) This applies to the Church and to the nations of the world. We have been, a long time ago, warned of this:
"And it shall happen in that day that I will make Jerusalem
                        a very heavy stone for all peoples; all who would heave
                        it away will surely be cut in pieces, though all nations of
                        the earth are gathered against it." Zechariah 12:3
                        "For I am with you, says the Lord, to save you; though I
                         make a full end of all the nations where I have scattered
                         you…." Jeremiah 30:11
It is interesting that we are presently witnessing a concerted effort by the world community to wrest Jerusalem from Israeli control. This warning is clear; in doing so they will rupture themselves!
The Final Battle of God
 "Behold, the day of the Lord is coming, and your spoil
 will be divided in your midst. For I will gather all the
 nations against Jerusalem; the city shall be taken, the
 houses rifled and the women ravished. Half of the city
 shall go into captivity, but the remnant of the people
 shall not be cut off from the city. Then the Lord will
 go forth and fight against those nations, as He fights in
 the day of battle. And in that day his feet will stand on
 the Mount of Olives, which faces Jerusalem on the east."
                                                Zechariah 14:1-4
The final and great battle of world history will be over the great city of Jerusalem. The "powers" of evil, both seen and unseen, will increasingly seek to dismantle Israel and disinvest her of her Capital, Jerusalem. In doing this they are, as they have always done throughout history, attempting to frustrate and liquidate the purpose of God on the earth. A Jewish Jerusalem is the platform, and thus the destination, of Jesus' return to the earth as King of Kings and Lord of Lords.  All the scriptures pertaining to the visible second coming of Christ portray Him as returning to a Jewish controlled Jerusalem.  In fact Jesus comes to defend His people living there! (Zechariah 12:8) This amazing day will be and is being resisted by all the powers of darkness and so we have to choose on what side of this battle we are going to stand? Will we risk persecution, demonic resistance and unpopularity and side with Israel or will we side with the Devil and his hordes, the Bible calls them the "sons of tumult." (Numbers 24:17)
To be honest this great day of the battle for Jerusalem has already begun. It has accelerated and escalated in recent weeks by the UNESCO decision to designate Jerusalem "Islamic", by resolution 2334 at the UN that seeks to remove Jerusalem from Israeli sovereignty and now by the "Paris Conference" that sought to unilaterally declare a Palestinian state with Jerusalem as its capital. In short Israel is on a collision course with the world but the world is on a collision course with Jesus! Pray for the peace of Jerusalem!
Malcolm Hedding
2017Devotional
2017Devotional